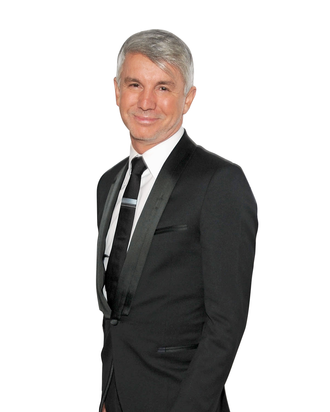 Photo: Larry Busacca Images for EJAF) /Getty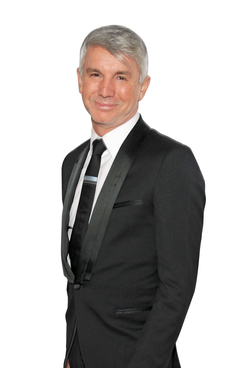 Like The Hobbit, another highly anticipated book adaptation from Down Under, the rumor mill has been working overtime on The Great Gatsby. It's going to star Carey Mulligan! And Leo DiCaprio and his BFF Tobey Maguire! Baz Luhrmann is going to direct it! No, wait, maybe he's not going to direct it! He's going to shoot it in 3-D! Seriously! And even though it's set in Long Island, he's going to shoot it in … Australia! It was just our luck, then, that Luhrmann happened to be in attendance at the Brooklyn Academy of Music's gala dinner in honor of Geoffrey Rush's turn in Gogol's Diary of a Madman. As with most Australians in this biz, Luhrmann and Rush go way back; Luhrmann had been part of a group of Australian artists who'd plunked down their own money to save the Belvoir Theatre, where Rush originally played Madman's title character 22 years ago. Luhrmann's wife, Catherine Martin, had designed the sets back then (young Baz volunteered to paint them), just as she had done for the current production at BAM. A chatty Luhrmann was happy to discuss psycho-pharmaceuticals, loneliness, death, odd jobs, and pizza, but talked circles when we tried to get clarification on the Great Gatsby rumors. From a detailed analysis of his hints and winks, we're pretty sure he's directing the movie, and that his next one after this might be about food.
When's the last time you were in Brooklyn?
I was in Bushwick recently at a fantastic pizza restaurant I love out there. It's called … [turns to wife] CM, what's that crazy great, awesome, brilliant pizza restaurant in Bushwick where we go to? Roberta's! Where they grow their own organics. It's just awesome and we have a great time and they grow all their stuff out of the back. And my kids go to school here and I really like the fact that they see where their food comes from.
They go to school in Bushwick?
No, they go uptown. I just like taking them different places. And most of my team are in Brooklyn. So I'm there a lot.
If you're here a lot and most of your team is in Brooklyn, why are you shooting The Great Gatsby in Australia?
That's a great question. I'm not doing Gatsby right now for this reason. Because despite what might be out there, I have made no comment about anything. So until I say it, it's not said, you know.
What does that mean?
What it means is, much like what goes on in any event, when you're in the middle of the work, there's all sorts of things you're doing, and, you know, when I'm really clear — I, right now, my only focus is absorbing — I've been studying Fitzgerald now for three years, and my only act now is to absorb the DNA of his world, his life, the world of the novel. That's why I have published on our website all the books we're reading. And I think before we all engage anyone, the first thing to do is to do your homework, read the books, and then let's talk.
Does that mean even the fact that you're making The Great Gatsby is misreported?
No, I'm making The Great Gatsby.
And the 3-D part?
Like I said, I'm in the middle of my own foolish-to-be-talking-about-anything-in-any-regard stage, before you truly have something to express. I'm in the middle of my own moment and my team's, and I'm just building culture. Building creative culture.
So all the rumors about casting and where it's going to be shot are just things people are saying?
That would be a really clever way of getting a confirmation or a denial, and I commend you highly!
Girl's gotta try.
You've got a long road ahead of you. I say, "Nice try."
And what do you think about the Long Island mansion, Lands End, rumored to be the inspiration for Daisy Buchanan's house in the novel, possibly getting razed?
I can comment on that. Well, even that I actually can't. Because I've got an idea.
Of how to save it?
I didn't say that.
Can you give me a general range in the world of ideas where this idea might fall?
Of course I had reaction to it, of which I cannot express, because I haven't formed my plan.
Okay, but there is some idea in the ether?
I had a strong reaction to it. [Bursts out laughing.]
Well, thanks for the Roberta's recommendation. You should do a movie about food.
Funny you should say that … [raises eyebrows] Uh-uh. I didn't say anything!