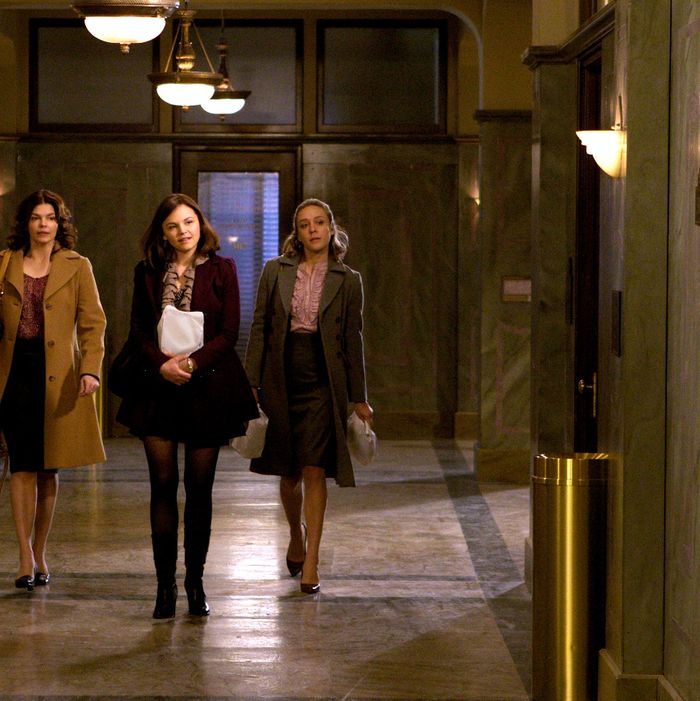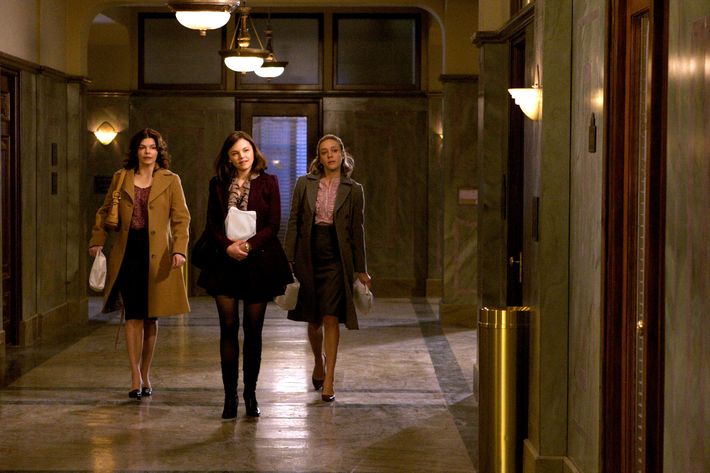 Before a story resolves, it must climax. With just one episode left of Big Love, the Henricksons' war with the Grant family finally ends with a shoot-out in the state capitol. But even with Alby gone, the Henricksons' future remains uncertain. Bill could go to prison for twenty years, Barb could leave the family, and Nicki must confront her past. Performances sharpened in this penultimate episode and we're already missing this family, and this series.
The family suspects that Barb wants out, what with her concern for auto maintenance and potential membership in another church — one that believes women can be priesthood holders, but doesn't adhere to the Principle. This new church poses a threat to Bill, who again questions Barb's commitment to the family via the Principle. Considering Barb's consistent ambivalence throughout the series about plural marriage, Bill's sudden concern about Barb's allegiance feels disingenuous.
But as self-centered as Bill often is, nobody tops Nicki. She tries to send Cara Lynn away to Aryan Youth Reeducation Camp without telling anyone. When the family stops her, Nicki seeks vengeance by giving Cara Lynn the meanest mother-daughter talk in human history: "Once a victim, always a victim. Stop talking about love. People like you don't deserve love. They don't deserve to get it, and they're incapable of giving it. I know what you really are: a little manipulator, and a liar. For all we know, you're probably on birth control pills. Stop crying. You have them fooled but not me."
What's so devastating about this speech is that Nicki knows she is talking about herself. She is able only to spew her shame, resentment, and self-loathing on the one person she should love the most. When Cara Lynn breaks down and burns her books and confesses her worthlessness, Nicki shatters. "They didn't put the shame into her, I did!" Nicki confesses to Bill. "Heavenly Father has forsaken us!" Bill, who always played the father figure to Nicki's needy daughter, is tender in his affirmations of God's love, and the family's. As Barb and Margene overlook the scene from the hallway, the spouses are truly resealed.
But Ben's future in the Celestial Kingdom may not be so happy. Rhonda threatens to tell Heather of their illicit night, and honest Ben resolves to do it himself. But Rhonda, who even in widowhood can undermine with the best of them, lashes out at Heather in her own unique way: "Congratulations, lezbo. You won." Ben further botches the apology by instead proposing an alternative solution: plural marriage. "I can take care of both of you! I can be with both of you," he tells Heather with a righteous earnestness. She, rightly, throws a milkshake in his face. Ben's loyalty to Bill remained steadfast throughout the series, so his belief in the Principle is unsurprising. But it's still disappointing. C'mon, Ben! Have you been watching this show? Plural marriage is nothing but trouble.
We miss so many characters from Big Love (especially Wanda, Joey, and Sarah), so we were happy to see a kinder, gentler Selma invite Alby to take refuge in Ciudad Green. He convinces Adaleen to kill Bill for him. But when Bill and Barb run into Alby and Adaleen, she can't pull the trigger. Instead she bites Barb (!) and loses her gun in the subsequent tussle. (Where's Barb's gun? We'd better see it next week.) Alby escapes, only to confront Bill in the state capitol. We were waiting for Bill to get got the entire episode, so the final standoff was somewhat anticlimactic. Bill shoots Alby in the arm, but can't bring himself to shoot him, despite Nicki's pleas.
So what's next and last for the Henricksons? We can't imagine Bill will go to prison, but that statutory rape charge isn't going anywhere. Our guess: He and the family testify against Alby and the other polygamists in exchange for a lighter sentence for Bill. See you next week for the denouement!