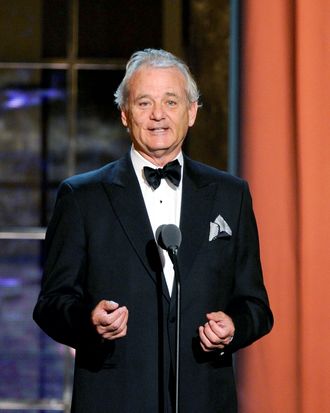 Photo: Dimitrios Kambouris/2011 Getty Images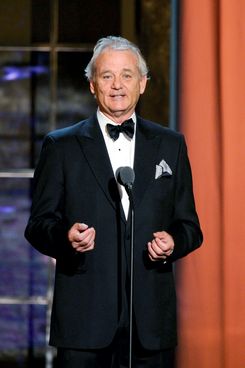 This weekend, Comedy Central hosted its first-ever Comedy Awards at the Hammerstein Ballroom, a ceremony that was heavy on alcohol and A-listers: Eddie Murphy (recipient of this year's Icon Award), Will Ferrell, Jon Stewart, Tina Fey, Ty Burrell — they all showed up to remind a jaded, post-Oscars America what can happen when professional funny people are given a stage and a mike. The whole affair lasted just two hours. (It airs on Comedy Central and select other networks on April 10.) There wasn't a host; presenters kept their bits short and profanity-laced — and we weren't bored once. We put together a few highlights.
Rob Corddry wins for Best Sketch Comedy (Children's Hospital). He thanks Shonda Rhimes "for so consistently making television that is bonkers." We give this same thanks every Thursday night.
The Lonely Island performs "I Just Had Sex." Andy Samberg dances better than Akon.
Jon Stewart beats Stephen Colbert for Best Late Night Comedy Series; Colbert storms the stage. After years of sitting behind Stewart and watching him win at the Emmys, Colbert says, "Tonight, you can go fuck yourself. Get the fuck off the stage … I accept this award for everyone whose soul has been crushed by Jon Stewart." He just accepted an award on behalf of Fox News.
Tracy Morgan presents the Icon Award to Eddie Murphy. "This dude, Eddie Murphy, he's the reason why I'm in comedy … and I recently found out he's my biological father." Listen for a chorus of kids saying "me too" on April 10.
Jon Cryer continues the funny streak he's been on since Sheen started winning. He and some friends, he says, have been working on an album. Then, suddenly — more rap! Two guys and some scantily clad dancers storm the stage to perform "Jon Cryer Will Fuck You Up." Cryer snaps his fingers and dances dorkylike. We know he's just fooling us; we remember Duckie.
Tina Fey wins Best Comedy Actress for Date Night, beating out Helen Mirren for Red. "The only thing I knew for sure while we were making this movie was that I was so fucking crushing Helen Mirren at acting." As for her co-star Steve Carell: "Steve, you're a prince among men, you make it easy to improvise. When I was a student at Second City, I used to sit on a bench in the theater and watch Steve onstage, and if you had told me that someday I would be in a movie with him and I would be paid almost half of what he was making … thank you."
Bill Murray! The surprise presenter gives the Johnny Carson award to David Letterman, who equates his win with NASA recognizing the work of Balloon Boy. Bill Murray was standing to his right the whole time.