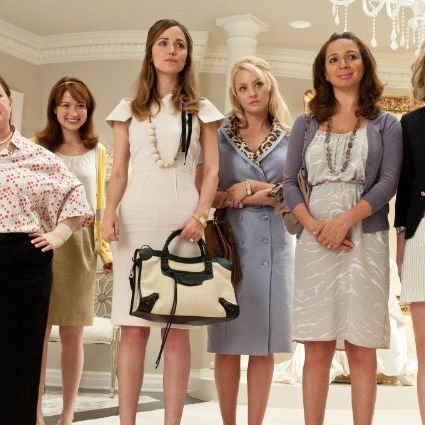 Photo: Universal Pictures/Courtesy shot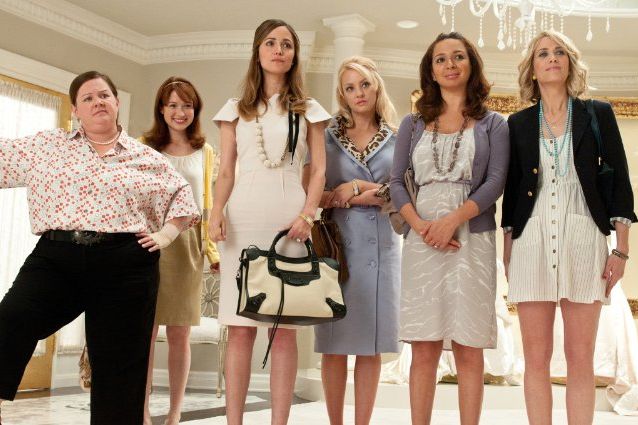 Ever since the release of the trailer for Bridesmaids, the female-centric answer to The Hangover — starring Kristen Wiig as a bridesmaidzilla who goes nutjob when her best friend (Maya Rudolph) gets engaged — it was clear that the movie would play with women. But would it attract any men? Judging from its work-in-progress screening late last night at SXSW, it looks like the Judd Apatow–produced nasty-funny comedy will be crude and dirty enough to play to both genders.
The film opens with a hysterical, spazzily gymnastic sex scene between Wiig and Jon Hamm, and the script, by Wiig and Groundlings comic Annie Mumolo, is wickedly filthy. Though it would be no surprise if some of the jokes got cut out before the film hits theaters on May 13, last night's viewing saw a rapid-fire assault of gags involving masturbation, farts, anal-bleaching, and self-debasement. And all that pales next to one epic food-poisoning sequence, in which all but one of the bridesmaids ends up sweatily suffering from explosive diarrhea and vomiting in the middle of a posh bridal boutique. We'll review the film in its finished form when it opens, but for now, here are five choice lines that should give an indication of just how blue Bridesmaids plays.
1. "I want balls in my face." A bridesmaid's request for the bachelorette.
2. "Sometimes, I just want to watch The Daily Show without him entering me." A married bridesmaid's lament.
3. "We had an adult sleepover," Wiig says to Rudolph. Rudolph: "Did you let him sleep over in your mouth?" Wiig: "Well … he kept putting it around my face."
4. "There's sperm everywhere … I cracked a blanket in half." A bridesmaid, describing life with her adolescent sons.
5. "I just took a shit in the middle of the street." Maya Rudolph, delivering a line no other leading lady has ever delivered.