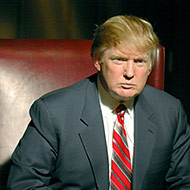 A new season of The Celebrity Apprentice debuts this Sunday, with a fresh crop of "stars" with questionable business sense but estimable freak-out potential: Gary Busey, LaToya Jackson, Star Jones, Richard Hatch, NeNe Leakes, and the list continues without getting much saner. Who is hardy enough to dissect and analyze this potent mix of ego, lunacy, and sadness? Why, "The Best Show on WFMU" podcast/radio-show host and TV writer/producer Tom Scharpling, who will be hilariously recapping Celebrity Apprentice every Monday morning on Vulture!
As we like to do with some of our new recappers, we submitted him to a brief questionnaire to make sure his credentials are in order.
What makes you an authority on The Celebrity Apprentice?
I have watched enough episodes of The Apprentice both with and without celebrities. And I am an admirer of celebrities in general. They are our royalty and they should be treated as such!
Describe your level of business acumen.
I'm quite handy with a calculator and I know how to make a Costco work to my advantage (Rule No. 1: "If it's perishable, let it perish on their shelves!"). But I come from the School of Hard Knocks, guys. I learned how to survive on the streets. Kind of like the opening scene of Rocky, except we didn't even have the money for a match to light a fire in a garbage can to sing doo-wop around. But look at me now — I have more matches to my name than you can shake a stick at!
If you were hiring a celebrity, what qualifications would you look for?
I guess it would depend on what I was hiring them for. If I wanted my car detailed, I would probably look to hire a Tony Danza. If I was looking to get my gutters cleaned, I would seek the services of a Zeus "Tiny" Lister. And if I needed a business partner murdered at a red light, I would probably hire someone like Steve-O or Andy Milonakis.
Do you have an early favorite in this competition?
I guess I'm rooting for Marlee Matlin, if only because she won an Oscar and seems like a human being. But since I am known to have a weak spot for The Crazy and have a reputation as a Champion of the Addled, maybe one of these other maniacs will charm me with their damaged ways.
We think you'll agree that he is the right man for the job. Read him here Monday morning.