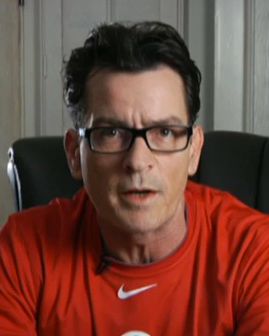 Embattled Major League 3 star Charlie Sheen and his legal team are just spraying shots right now at Two and a Half Men's creative team and cast. This is not a joke: It is now only a matter of time before Angus T. Jones somehow gets blamed for all this. A recap of last night's activities on the warlock front:
First, there's the legal news: Sheen's lawyer Marty Singer is framing his client's firing as part of a personal vendetta by Men show-runner Chuck Lorre. Says Singer: "This is only the beginning. You know how many times Charlie has had drug and rehab problems in the past? This is about the hostility between Chuck and Charlie that has gone on for years. This is Chuck conspiring with Warner Bros. [to get rid of him]." But why? "We believe Chuck Lorre has a better deal and stands to make more on his other shows [The Big Bang Theory and Mike & Molly] than on Two and a Half Men, so he has an interest in making those shows flourish at the expense of my client's show." That doesn't really make sense — how would torpedoing one show help others that are on the same network? Anyway, they're suing and it could take years to settle.
Meanwhile, Charlie Sheen continues to say things! On the latest, uh, Sheen's Korner, Charlie goes after CBS's Les Moonves and Warner Bros.' Bruce Rosenblum, but mostly just hates on Lorre. Here we go:
Where are you hiding, you silly clown? Behind your narcissism, your greed, your hatred of yourself and women? Which person are you cowering behind for cover? I see you, moron, behind that plastic smile, behind your need to be liked…Good luck putting those tin-can shitbrain [words] in the mushmouth of some arrogant carcass you've traded for this warlock…Can you smell your smell? Can you smell your rotting dogshit, your fermented puke that is your rotted viscera? Can you smell the lies, can you smell the carnage you've created? Can you smell the wimpy, scared child you'll never have the courage to embrace? … It smells like malaria. If sad and stupid had a smell attached it would be you, Fuck Lorre. It's perfect your name rhymes with suck, muck. You picked a fight with a warlock, you little worm.
And, worst of all, even poor innocent Jon Cryer is getting it. Sheen, to E!: "Jon has not called me. He's a turncoat, a traitor, a troll. Clearly he's a troll."
On the plus side: Holland Taylor still thinks Charlie's totally great!
Charlie Sheen Showdown: Lawyers Break Silence, Reveal New Details (Exclusive) [Esq./HR]
Charlie Sheen Blasts Chuck Lorre, Leslie Moonves, Bruce Rosenblum in Fourth 'Sheen's Korner' Webcast [HR]
Charlie Sheen on Jon Cryer: "He's a Turncoat!" [E!]
Related: 10 Possible Charlie Sheen Replacements Who Might Get Us to Watch Two and a Half Men
Is Charlie Sheen Turning Into Saddam Hussein?
Four New Reveals From the Letter That Fired Charlie Sheen
The Argument You're Having With Yourself About Charlie Sheen
The 15 Funniest Charlie Sheen Clickables: Laugh While You Still Can!
The Media Betting on Charlie Sheen Dying Soon