A Night Out With Dipset's Cam'ron, Juelz Santana, and Jim Jones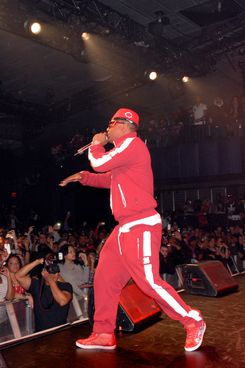 New York is the only city that has a police division, the NYPD Hip-hop Task Force, assigned to a music scene. One might think that Saturday night's concert at Times Square's Best Buy Theater by Harlem's the Diplomats — a.k.a. Dipset, arguably Manhattan's most beloved, notorious, and enigmatic rap crew — would be an occasion for the task force to strike. Ever the intrepid reporter, Vulture tagged along with crew boss Cam'ron for five hours on the night of the show to uncover some hip-hop truths. Many myths were defied that night; some, magnified.
A booking agent from Paradigm told us backstage that he usually gets a 75-person list at the venue. Dipset brought about 300 friends and family. Yes, everyone was smoking weed. But, surprisingly, no one was really drinking; backstage was mellower than a Sheryl Crow concert. The only aggression came from the venue's security, who started bogus arguments over idiotic things like wristbands and metal barricades being jostled.
In Cam'ron's dressing room, the vibe was more Jewish seder than gangster convention. Everyone knew each other so well they barely had anything to talk about. Instead they cracked jokes and dropped puns. When told the venue only had sugar-free drinks, Cam'ron laughed and said, "They don't have sugar-free Champagne?"
As the show progressed, the stage flooded, the Champagne came out, and the seder transformed into a celebration of Harlem. Dipset split up for a few years, reuniting last summer. Cam'ron, long seen as fading, has four songs on the radio with his new protégé, Vado, which they performed before being joined by the rest of the posse. Cam's old protégé Juelz Santana was the only member of Dipset not wearing red, the Bloods' gang color. (Probably because he was arrested last month for allegedly running a Bloods syndicate in New Jersey.) Jim Jones changed outfits three times. The peak came with the last songs, "Dipset Anthem" and "Salute," when 30 people had mikes and everyone moved center stage to dance, drink, sing, and smoke. "They said we couldn't do it," Jim Jones yelled at the end of the night. "But there were no fights, no nothing! Thanks, New York!"
For photos of the whole night's festivities, click through our slideshow.