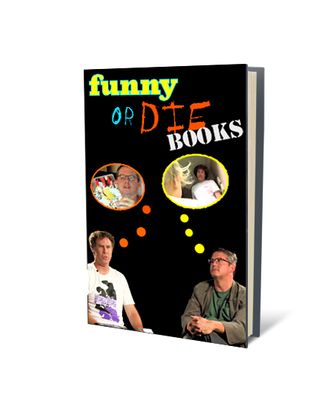 Photo: Photos: Funny or Die/Funny or Die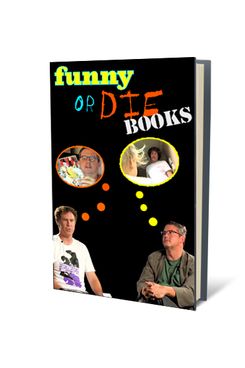 Here's a bit of breaking media news sure to please comedy nerds, bibliophiles, and techno-futurists alike: Vulture has learned that Funny or Die, the online-video juggernaut founded by Will Ferrell and Adam McKay in 2007, is launching a book-publishing arm. Operating under the name Funny or Die Books, the imprint will seek to extend the humor brand just as it did with its recent forays into television and movies (Funny or Die Presents on HBO is in its second season, and the company is producing its first feature film, Tim and Eric's Billion Dollar Movie).
But why books? "Well, we like books, and we like reading," says Mike Farah, Funny or Die's president of production. "And we're fortunate enough to be able to expand from the engine that is currently driving us. We felt like this would be a fun and logical space to get into. But we're going to take it slowly, learning as we go."
Under the model currently envisioned, Funny or Die would solicit original works of humor, refine the ideas, and then shop the proposals to publishers in much the same way individual authors do, albeit with the backing of a brand that generates over 33 million video views each month, boasts nearly 1.8 million Twitter followers, and has inside access to the top comedic talent in Hollywood. While neither McKay nor Ferrell were available for comment, both will be involved in the new publishing arm, according to Farah. Will they be wading through the slush pile and copyediting manuscripts? "Not exactly," says Farah. "But they'll have oversight in terms of making sure all new content fits the brand."
The imprint's first project is an e-book that will satirize the world of celebrity, written by humorist Mike Sacks and the Pleasure Syndicate (the writing team behind Sex: Our Bodies, Our Junk), and it will debut in July. Farah declined to release pricing or distribution details at this time.
Certainly, one can question whether the success Funny or Die has had with short-form viral videos about drunken toddler landlords will translate into a medium that demands product that takes longer than three minutes to read. But in a landscape where publishers are entering bidding wars over Twitter feeds and Tumblrs about cats, that question seems moot. Factor in the size of the marketing channel and the built-in audience, and you've got a partnership that's very attractive to beleaguered book executives. And there are some successful models for this sort of arrangement, especially in the humor space. National Lampoon's relationship with Random House in the seventies come to mind, as do the more recent book franchises spun off by The Onion and The Daily Show.
To help navigate the brave new world of books, Funny or Die has hired a skeleton crew consisting of an editor and a "cross platform consultant" who will work with Funny or Die's agency of record, CAA, and lead the charge in producing so-called "enhanced e-books," which will add original video-based elements to the text. In other words, you could hypothetically be reading a book of comedic rants by Zach Galifianakis, get to a point in the story where he's talking about interviewing Charlize Theron on "Between Two Ferns," and then seamlessly watch a new, never-before-seen clip of Galifianakis and Theron discussing their original interview.
Still, despite these interactive enhancements, it's hard to escape the fact that this news involves a nimble digital enterprise stepping into a traditionally slow-paced, old-school medium. What's next for Funny or Die, branching out into the lucrative world of vinyl recordings? "Why of course." answered Farah. "But first we're hoping to enter the budding Laserdisc market."