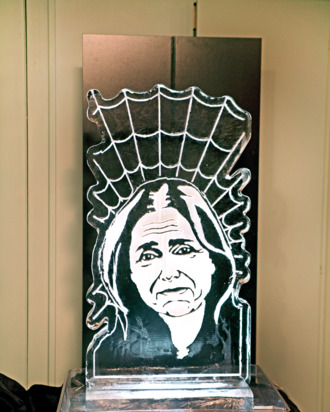 Photo: Konstantin Sergeyev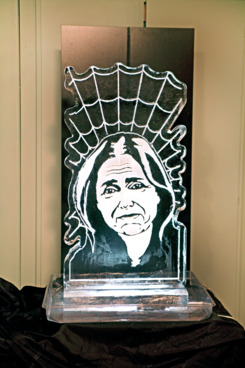 On the Food Network show Ice Brigade (which airs tonight at 10), Randy Finch and his fellow sculptors make crazy ice creations (pool tables, giant chess pieces, fully functioning bars). Vulture wanted in on the action, so we put in a request for an ice sculpture of our own. In tribute to the never-ending, violent, wonderfully entertaining Spider-Manpocalypse, we asked for an ice sculpture of a sad Julie Taymor literally caught in a metaphorical spider web. Finch complied.
"It's always challenging when you do a face," Finch says of the process with Taymor, which took about eight hours in total to complete. "A lot of the things we're doing on the show are mechanical: the pin ball table with the flippers, the piano, the pool table. This is more of an artistic drawing. The challenge is to make it so everyone recognizes it." To ensure accuracy, Finch and the team went through "a cross section of [Taymor] photos. We're working in two tones, the clear ice and the snow, and we wanted to find something that really showed off that sad expression. The facial tones tell the story." Take in the marvel of Ice Taymor above, and Finch in action (with bonus Ice2D2!) down below.