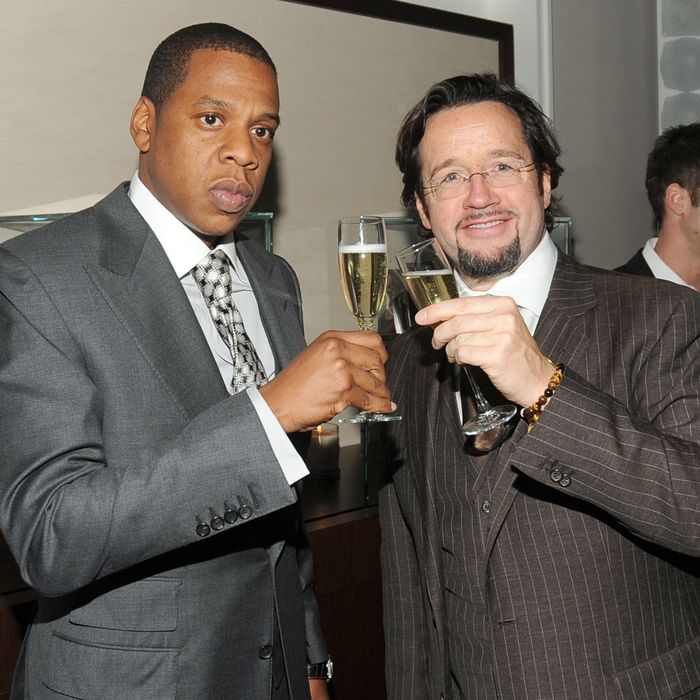 The Atlantic today has an excellent excerpt from the upcoming book Empire State of Mind: How Jay-Z Went from Street Corner to Corner Office that homes in on Jay's — potentially dastardly! — dealings with the Champagne Armand de Brignac. As you may recall, Jay-Z was a big-time Cristal man — until 2006, when snooty French person Frederic Rouzaud, the manager of Cristal's parent company, Louis Roederer, derided the brand's hip-hop clientele. Jay in turn denounced Cristal, then had his first official dalliance with Armand in the "Show Me What You Got" video. (It was the first single on Kingdom Come? Lil Wayne killed a remix? Nothing? No worries. Seriously, understandable.) Perfectly reasonable for Jay to find a different luxury Champagne to flaunt with, right? Well, it turns out, Armand might not be so much "luxurious" as "overpriced garbage."
In the piece, Empire author Zack O'Malley Greenburg quotes wine industry experts who vehemently bash Armand. Greenburg also claims that Armand is identical to the drastically cheaper Antique Gold, a brand distributed by Armand's parent company, Cattier, until 2006 — right as Armand came on the market. The biggest takeaway: Greenburg's anonymous sources claim that, despite publicly stating he has no financial ties to Armand, Jay secretly makes up to $4 million a year for his promotional work.
Does it really matter that Jay-Z is getting paid for an under-the-radar sponsorship deal? Well, yeah, maybe. Jay's brand is that of the coolest dude in the room. Remember his Bud Select commercials? (Also during the Kingdom Come promo run — so no problem if you don't!) They were lukewarmly received, and he hasn't done that kind of overt shilling since. So did he consciously develop an alternative, more subtle promotional deal? If the details of his deal with Armand are true, he's basically knowingly pushing crappy Champagne. In every other aspect, Jay-Z's taste is generally perceived as impeccable. That he's compromising that element of his persona to squeeze out a few extra mill a year feels a bit icky.
But then again: Other than previously mentioned wine-industry experts, are the rest of us really tasting the difference between Cristal and Armand? If you are a young person paying exorbitant amounts of money for Champagne in clubs these days, you most likely are doing it, half-jokingly or not, to re-create some of that Jay-Z mystique. (If you're not a young person, you don't care what Jay-Z is pushing anyway, and therefore aren't being swayed by his influence.) When Jay-Z picked Cristal, he was associating himself with something upper class; by the time he abandoned it, he represented the upper class, to a certain demographic, more than Cristal ever did. Sure, no one should be tricked into overpaying for anything. But that's the thing — if what you're paying for is the Jay-Z touch anyway, are you overpaying?
Jay-Z's Great Champagne Robbery - Life [Atlantic]