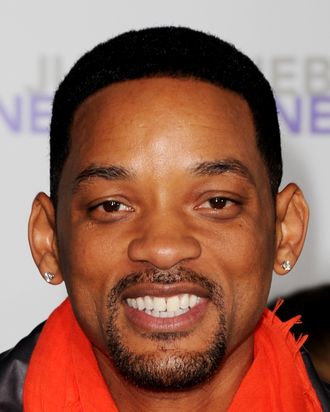 Photo: Jason Merritt/2011 Getty Images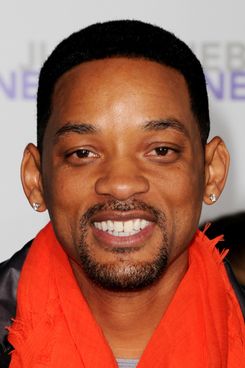 There are so many great details in The Hollywood Reporter's new piece on the woes of Men in Black III, which started shooting in November with an incomplete script and is currently in hiatus, so let's just focus on the best bit right off the bat. The reason the movie doesn't have a finished script is because the original draft, written by Tropic Thunder's Etan Cohen, was signed off on by director Barry Sonnenfeld and producer Walter Parkes — but not Will Smith. And while writers Jeff Nathanson and David Koepp have been brought in to do some punching up, Smith is also taking matters into his own hands. According to THR:
"He's become very enamored with aspects of screenwriting," says a source involved with the production. The source believes Smith has earned the right to weigh in on the script, but he says the actor's process "takes a long time." (The star's reps did not respond to a request for comment.)
The "actor's process"! What's his process? We'd love to hear more about this. Is he workshopping his version with Martin Lawrence? Is he currently taking Robert McKee's seminar? Are Willow and Jaden secretly writing Men in Black III?
There's much more: The reason the movie started shooting in November, without a script, was to catch certain New York State tax breaks that were supposed to expire in December. A hiatus, during which the script would be completed, was always planned — but now, while the project waits for that script, the hiatus is dragging on and chipping away at the savings accrued from the tax breaks. Sony spokesman Steve Elzer defends the move: "Because we extended the hiatus from the holidays, few people were on the payroll, so this was a relatively inexpensive decision that has had an insignificant impact on the budget." Then again, there's no end to the hiatus in sight The hiatus is supposed to end March 28 but, says THR, "Smith is under no pressure to approve a script that is not 100% to his liking." Also, hilariously, the tax breaks the project was taking advantage of did not end up expiring in December, but were instead extended another five years.
And that's not all! A power struggle over creative decisions has broken out between Sonnenfeld and Parkes — one that, an anonymous source says, will be won by Parkes because of his great hair. No, seriously: "A lot of the blame gets put on Barry because he's so neurotic and out there. But the real evil here is Walter trying to impose his point of view on things. And because he's so facile and he's got great hair, he wins the day a lot."
This is already more entertaining than all of Men In Black II.
Why 'Men in Black III' Started Shooting Without a Script [HR]