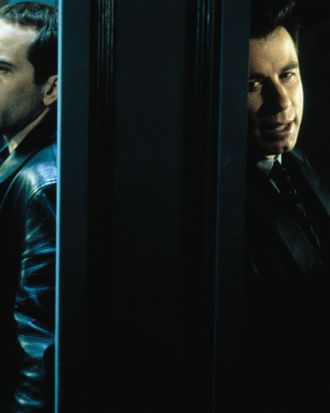 Photo: Universal Pictures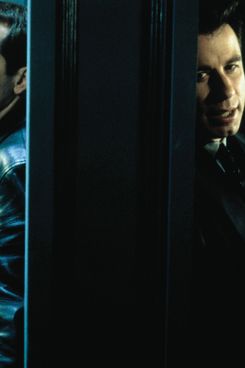 It's been fifteen years since Nicolas Cage and John Travolta traded faces, and now, Vulture hears exclusively that they may be reuniting again on not one, but two indie thrillers.
The first to go could be Shrapnel, a script by Evan Dougherty that appeared on the 2008 Hollywood Black List of best unproduced screenplays, and which we're told is readying for a June shooting start. It follows a former Bosnian soldier who seeks vengeance against the American who badly wounded him by disguising a deadly war game as a friendly backwoods hunting trip.
Shrapnel had actually landed John McTiernan (Die Hard) as a director in September of last year. But then, last October, McTiernan was fined $100,000 and sentenced to a year in prison for perjuring himself to FBI agents who were investigating the Anthony Pellicano Hollywood wiretap case — a sentence McTiernan's currently appealing while free on bail.
The other indie project competing for Cage and Travolta's attention is a Chuck Roven–produced thriller called Sea Trial, from City Island writer-director Raymond De Felitta. (Small-world watch: McTiernan was indicted for lying to the Feds about having had knowledge of Pellicano's wiretapping of Roven, the producer of McTiernan's 2002 flop Rollerball.) Sea Trial is based on the eponymous novel by De Felitta's father, novelist Frank De Felitta (Audrey Rose; The Entity). This second project, however, is still lining up financing.