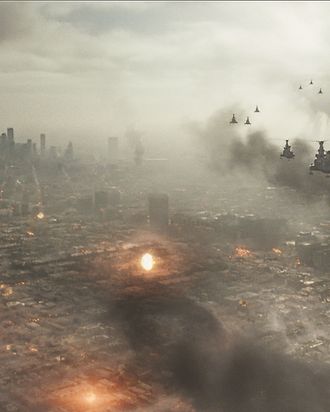 Photo: ? 2011 Columbia TriStar Marketing Group, Inc. All Rights Reserved. **ALL IMAGES ARE PROPERTY OF SONY PICTURES ENTERTAINMENT INC. FOR PROMOTIONAL USE ONLY. SALE, DUPLICATION OR TRANSFER OF THIS MATERIAL IS STRICTLY PROHIBITED.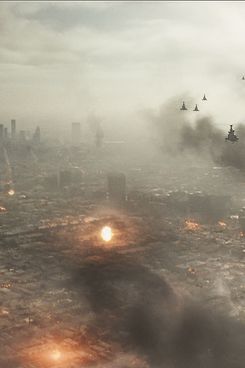 With its cinema verité-like images of interplanetary combat and its sublimely gloomy music, the first trailer for Battle: Los Angeles. held out hope that the movie might be elegiac and darkly poetic — maybe even good. No such luck: Vulture's Logan Hill flicked it away as a "sub-Mortal Kombat mess of Hollywood junk." But if the deftly deceptive trailer couldn't save the film, it did pluck the Icelandic composer Jóhann Jóhannsson from avant-garde obscurity. His piece "The Sun's Gone Dim and the Sky's Turned Black," which sounds like the song of a mournful machine, may be all anyone remembers of this sorry apocalyptic epic.
Jóhannsson is an unlikely candidate for sudden attention from Hollywood. His film credits include the soundtracks to such non-blockbusters as the documentary Dreams in Copenhagen and the Hungarian drama Ópium: Egy elmebeteg nö naplója ("Opium: Diary of a Madwoman"). He has made a few of his own videos, including a cryptic, sci-fi-in-the-tundra version of "The Sun's Gone Dim" and a live performance in which a dancer engages in controlled spasms of ecstasy or pain, or both.
The Battle: L.A. trailer does provide an accurate introduction to Jóhannsson's brand of meditative minimalism, all slow-motion patterns and spreading blooms of electronic sound. The track is taken from his 2006 album IBM 1401: A User's Manual , a tribute both to the composer's engineer father and to the 1960s mainframe computer he tended. The data-processing behemoth was an unwitting early electronic instrument; when engineers placed a radio next to it, the computer would sing in the wheezy, simple tones that are now reserved for toddler's toys but at that time represented the soundtrack of modernity.
Eventually, the Icelandic engineers held a funeral ceremony for that IBM 1401, and the reel-to-reel tapes of the musical calculator's performances disappeared into a cabinet. More than 30 years later, Jóhannsson recycled them into an orchestral work that's as lushly retro and darkly emotive as the original was eerie, dry, and futuristic. Battle: L.A. didn't do much for interplanetary relations or the history of cinema, but it has put a vast new public in touch with a bard of depressive Nordic rapture. So maybe that $100 million wasn't a total loss.