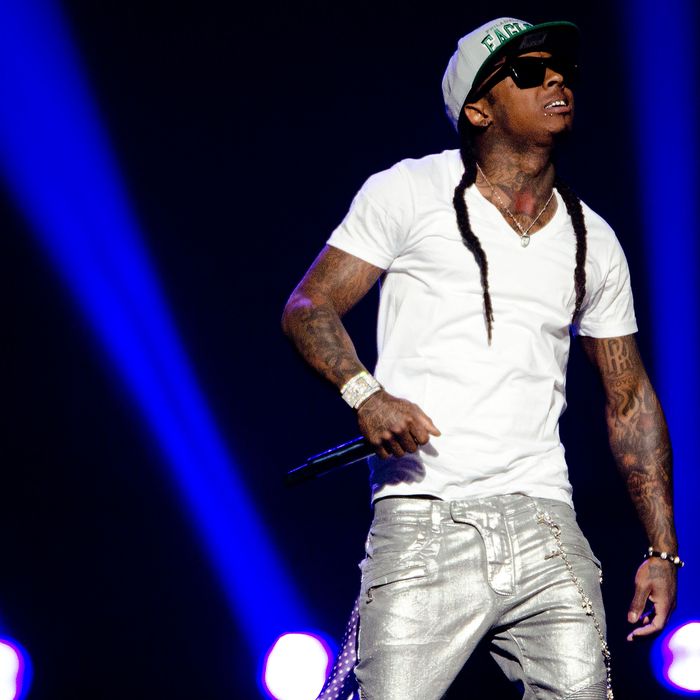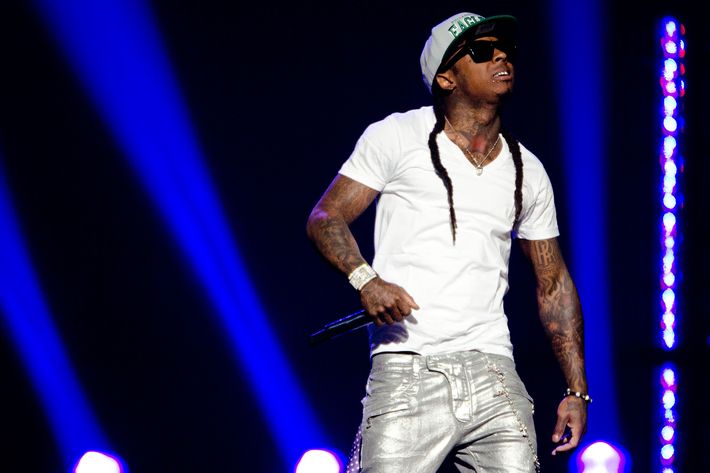 Last night's show at Long Island's Nassau Coliseum wasn't a fully realized cathartic experience for Lil Wayne, who was last seen in New York while leaving Rikers Island (and whose prison sentence stemmed from a 2007 gun possession arrest in New York, after a show at the Beacon Theater). To put it mildly: Selling out Madison Square Garden would have been a bit more emphatic than selling out the place where the Islanders play. But Wayne has vowed never to play New York proper again unless he gets "U2 money." Meaning that, as far as he was concerned, he was plenty close enough.
Wayne directly addressed the comeback narrative twice. First was his fantastic intro, an automated voice on a Rikers' voice-mail message informing a caller that "the defender, Dwayne Carter, is no longer in custody." That was capped with a few insanely loud shotgunlike blasts and full-on shrieky convulsing from an Uggs-wearing teen girl to our right. Later in the set, Wayne got more direct with his banter. "Y'all know I was up in this motherfucker on Rikers Island," he said. "People keep asking me what it feels like to come back. [Dramatic pause.] There is no motherfuckin' word: This shit is unexplainable. You guys are beautiful." Also: "Shout to the C.O.s and captains that was fuckin' with me. And when you see the warden, tell 'em to kiss my ass."
That was Wayne at his brashest. For the most part, though, he just seemed overjoyed to be doing this again. A more representative bit of stage banter: "There are three important things I need to share. The first is, I believe in God. Do you? The second is, I ain't shit without you. And the third is, I ain't shit without you." And he basically couldn't stop smiling all night, which is a good thing: While his diamond teeth might, presumably, come off as unseemly in person, they were perfectly glistening accessories in the arena setting. The whole night was a particular mixture of triumph and ridiculousness. Wayne's dancers — who came out, at various points, dressed as slutty cops, slutty slumber-party attendees, and slutty ninjas — did their part for the latter cause. But it was supporting act Nicki Minaj who really sealed the deal.
For her intro, scenes from Gladiator played on the big screen while a hooded monk, offering benedictions, marched solemnly forward. When he reached the end of the catwalk, he clapped some magic fairy dust together and Nicki popped up via a raised platform. By the end of the first song, she was in shoulder pads running a fake football play; by the end of the second, she was waving around a pink dildo (because, remember, if she had "a dick" she "would pull it out and piss on 'em"). During "Monster," Nicki's hype man dressed up as Halloween's Michael Myers and continued rapping. Later, she pretended to give Lil Wayne a lap dance. And the whole time, she had the crowd locked up. "I'm from Southside Jamaica, Queens." [Shrieks.] "I'm from muthafuckin' Southside Jamaica, Queens!" [Pandemonium.]
Wayne returned after Nicki, to the sounds of the X-Files music, and said ("I'm the greatest entertainer alive … next to Michael Jackson and James Brown") and did ("playing" the guitar on "Prom Queen") more hilarious things. Throughout, cameos were made by Ludacris, D.J. Khaled, Busta Rhymes, and various lower-tier members of the Young Money family. But Wayne was most engaging alone, rapping his ass off. And he saved the best for last, ending the show, while shirtless and snarling, on a massive run through "6 Foot, 7 Foot." Who needs MSG?