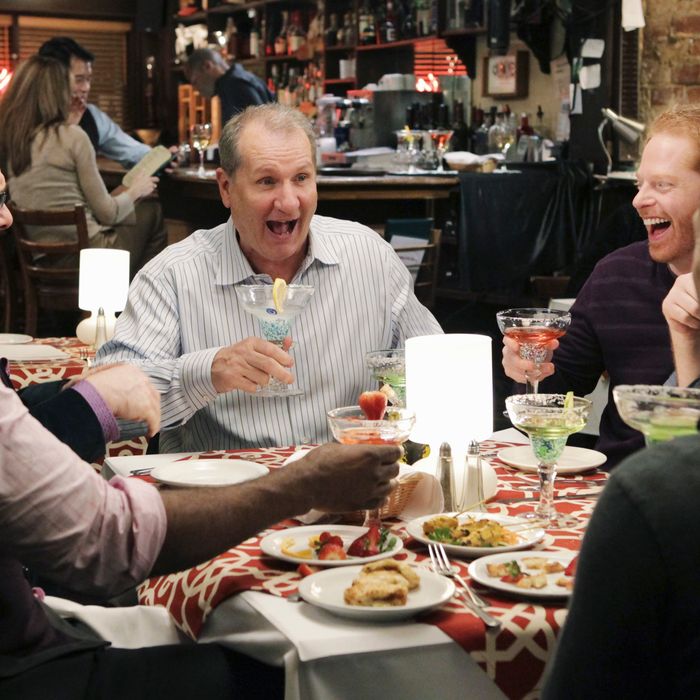 Photo: Karen Neal/? 2011 American Broadcasting Companies, Inc. All rights reserved.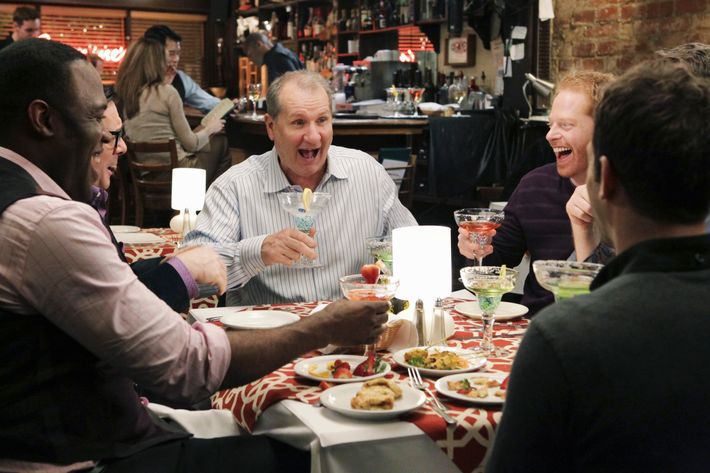 After scooting off for a three-week break, Modern Family returned last night. While the episode did some stuff we liked (conflicts with non-familiy members, or at least not the usual family members! A Luke-centric subplot! Friendly, humorous handling of gay folks and their complex relationships with their parents!) the whole thing seemed a little more focused on some kind of vague, aw-shucks moralizing than straight-ahead laughs.

The Pritchett-Dunphys
We open with the family (mostly reluctantly) playing wiffle ball in the backyard. ("Boys rule and girls drool!" "Luke, you drool all the time. Mom had to take you to a specialist." "I'm still growing into my tongue.") Here's Claire hitting one over the fence! And here's the whole game getting called off because no one wants to go retrieve the ball from Mr. Klezak's yard because apparently he is a creep. (Until now, we were under the impression that Phil and Claire's neighbors were pretty much exclusively of the bright, shiny, upper-middle-class WASP variety.) Not the kind of creep that they ever thought to warn their disaster-prone, boundary-unaware younger child not to go over and say hi to, though. Soon enough Luke wanders over to retrieve the ball and befriends the crusty old fella, Sandlot-style, with his special brand of adorable Luke non-wit.
When Claire and Phil find out, of course, they're mega-unhappy.( "Little kids can be friends with old people, right?" "Of course they can. There's tons of examples—Up, Gran Torino, True Grit." "Cartoon, he kills himself, she loses an arm—we've gotta go talk to that guy.") And so they break into Mr. Klezak's house one night to see if they can have a friendly, open talk with the maybe-lecher. After waltzing into dude's dark house while he's asleep in his living room, prodding him for signs of life, and breaking some shit in their frantic terror after he awakes, their fears are mostly confirmed: Turns out, he is a grumpy old man! It's hard to blame him: Besides the fact that these strangers broke into his house and aroused him from slumber, they think he's a pederast. Of course, you don't have to be a lonely pervert to have a soft spot in your enlarged, geriatric hearts for Luke ("Most people think I'm adorable"), and so Mr. Klezak brings some onions to Claire and Phil, explains he's a retired fireman, and, in return, gets Luke's help with his garden.
The Tucker-Pritchetts
It was really good to see these guys not fighting with each other this week — really, they're a great couple when they're on each other's team, and it's been a while since we've seen that. But here they are, finally, making plans to go out with some old pals: Longinus, Crispin, and good old Pepper, who nearly wrecked the union earlier this season but seems to have chilled out a bit — and who is played again by Nathan Lane, whose charms are far more evident when he's boozing and arranging impromptu barbershop quartet performances at bars than when he's fussing over imaginary relationship dramas. Before they go out, Mitchell calls up Claire to see if she can watch Lily. Haley answers. ("Sorry, she's not home. She had to take Alex to the oncologist." "Oh my god, what's wrong?" "She needed a new pair of glasses.") She jumps at the chance to spare herself another staggeringly boring, grounded Saturday night while positioning herself as a somewhat-responsible young adult. ("I'm babysitting Luke right now," she says as we see him unsheathing a giant knife in the kitchen.) We were all but mimicking Cameron's response to Mitch's half of the phone conversation, grimacing and making cutting motions at our neck, but when Haley got her way we were at least hoping for some kind of Baby's Day Out-style hijinks. (Lily's so composed at home — you just know she's a wild one when she hits the town, pursued by a pair of bumbling cat burglars.) But nope, Haley takes the predictable doofy high-school-girl route, putting the kid to bed and inviting Dylan over, though she doesn't even so much as commandeer the living room for a major make-out sesh. Unluckily for her, Cam is spying on her from some kind of remote web-cam thingy on his iPhone. (Is this a thing? People remotely spying on their babysitters?) Lucky for her, she knows how to lay a guilt trip like a pro, and temporarily convinces Cam that there isn't a boy at the house, by acting hurt that he would think so. Hayley might have gotten away with it, if Dylan hadn't left his shoes at her "uncleses." Cam knows exactly what she's after when she storms over later to fuss at him about not trusting her, while peeping around, less surreptitiously than she thinks, for dude's kicks. But he lets her go on and on anyway, before turning over what she's really after with only a knowing smirk because he's one of the two best uncleses a girl like her could really hope for.
The Pritchett-Delgados
Gloria, Manny and Jay opened the show this week with a breakfast-table bit, Manny balking as his mom hands him a plate of scrambled eggs when he usually gets soft-boiled. Some high-stakes business, there. He's appalled by the idea of trying something new, which Jay urges him to get over it: "You can't close yourself off to new things. Did I ever tell you about me and crab cakes? Thought I didn't like them, tried them, loved them." "Wow, are the movie rights available for that one?" Manny retorts, kind of summing up our feelings about the general low-stakesness of most of the family's segment of the episode. Later, Gloria and the guys head out to a show: Jay thinks they're going to see Frankie Valli and the Four Seasons, but when he realizes it's Vivaldi's Four Seasons — an opera, dude — he bails for a bar across the street. A bar where Mitch, Cam and their three gaymigos happen to be throwing back mixed drinks like they're undersized tuna. The guys catch him just as Jay sidles up to the bar, but he must have been drinking out on the street somewhere because he unhesitatingly joins them, seemingly unaware of the irony that, in his avoidance of trying one new thing, here he is trying another. Jay is, of course, the man's man who always has a macho-man crack at the ready, who's never been entirely supportive of Mitch, at least in Mitch's own eyes. Turns out, while he's been consciously distancing his dad from his social life — riddled as it is by men named, ahem, Pepper— all he needed to win Jay's full support of all his Life Choices was a night out with some of his homies ("Homos," Cam corrects). Everyone gets along famously, Jay is a sport, and Pepper takes an especial fancy to Jay, who he calls bright and early the next morning, while Jay is still nursing a hangover, to confirm plans to go record-shopping in Palm Beach. Jay tries to get Gloria to cover for him — to fake a terrible headache, an offer we feel perhaps she could have entertained for no other reason than to reward for him not once making a crack about her boobs (nice work, writers!). But with a fake-fake headache and a smile, she totally sells him out to Pepper, ushering them out the door, into a sports car with a puppy riding shotgun, and away to Palm Beach for a fabulous day of vintage-shop browsing. And we're hoping with every delusional, Dusty Springfield-loving bone in our bodies that this is exactly where next week's episode picks up.