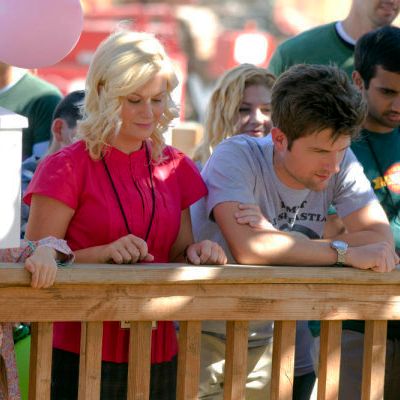 Photo: Paul Drinkwater/? NBC Universal, Inc.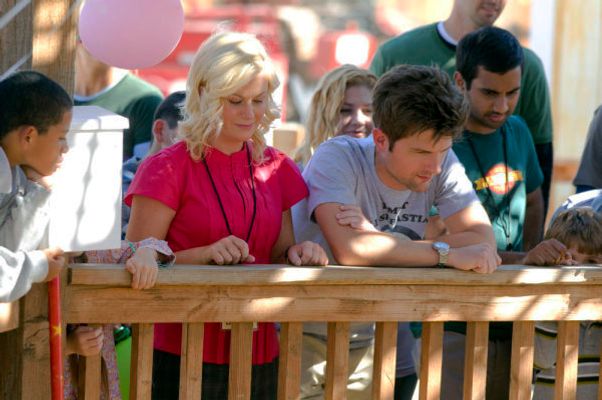 After six episodes' worth of preamble and fanfare, the lynchpin of Parks and Recreation's third season is upon us, and the stakes have been made abundantly clear: Either Pawnee's Harvest Festival is an unqualified success, or the department will be eliminated and Tom Haverford will have to go crawling back to Lady Foot Locker. Since changing the title of a network sitcom to Lady Foot Locker in the middle of its run is fraught with practical and, presumably, legal complications, it's safe to assume that the festival will indeed be a hit. (No spoilers here — exec producer Michael Schur has already affirmed as much.) The question then, which is far more compelling than whether this motley gang of lovable misfits will succeed or fail, is how this motley gang of lovable misfits will succeed. Then again, given Leslie Knope's determination, how could they not?
Helping matters considerably is Leslie's secret weapon: a 25-year-old white-maned, shockingly endowed miniature horse (it's not a pony!), Pawnee legend and honorary Notre Dame graduate L'il Sebastian, whose surprise appearance in the parks office sends even Ron Swanson into a fit of pure childlike giggling.
And they'll need all the help they can get: The local Wamapoke tribe lobbies to have the carnival moved from the sacred burial grounds of the Battle of Indian Hill, a seven-day fight during which the Wamapoke were defeated on account of not having any weapons. Moving the entire carnival is not practical, so Ken Hotate, the tribe's spokesman, has no choice but to resort to the threat that's scared to anyone who has ever seen Poltergeist — because if there's anything he knows about white people, it's that they love Matchbox 20 and are terrified of curses.
Of course, Joan Callamezzo, that bitter, spiteful, undermining, eagle-eyed tiger of a television reporter, wants nothing more than to see Leslie's grand plan implode, and is disappointed to see during her crew's walk-through of the grounds that every eventuality has been prepared for and covered. She concedes defeat at the sight of L'il Sebastian. So it's only fitting that Tom leaves the horse's gate open and Pawnee's favorite equine son disappears, a disaster that Tom is all too quick to pin on Jerry. The curse of the Wamapoke is in effect, cue shots of chipped paint, crying children, and swinging traffic lights.
While Andy practices the ring toss so he can win April 2 million teddy bears — a billion is a little unrealistic; this game is hard — she tells him that she loves him, to which he responds with the words every girl dreams of hearing: "Dude, no way! That is awesomesauce!" Pouting ensues. So, we're at that stage of the heretofore cute romance. But even more irksome is the Ronnie/Situation hybrid who inexplicably winds up dehydrated in the first-aid tent of a fair in a tiny Indiana town. One would hope that Parks and Rec might be above an easy Jersey Shore gag, or, worse, a fart joke, but this episode has both. That the still-heartsick Ann decides to pounce him during a power outage, at Donna's behest, cushions the blow.
There is only one generator in town that can be used to get the festival back up and running, and it belongs to the Wamapoke. Ben is convinced that he's actually the jinx, his bad Ice Town hoodoo now carrying over to the Harvest Festival. Leslie begs Ken, agreeing to place the Wamapoke history exhibit right by the entrance turnstile so everyone has to see it before they start having fun. "An Indian tribe striking a deal with the government," says Ken. "What can go wrong?" And with that, L'il Sebastian is spotted in the corn maze from the Ferris wheel, Ken calls a press conference to pretend to lift the curse, "American Girl" swells on the soundtrack, and some 50,000 people descend on the fairgrounds for some cotton candy, fried dough, and just an all-around fine day.
There's something that feels particularly satisfying about watching a wholly sympathetic, albeit fictional, character like Leslie Knope do well by her own ambition and by her friends. Maybe this explains why weddings on soap operas used to be ratings bonanzas. And maybe it explains why the mere suggestion of Jersey Shore, the absolute emotional polar opposite of this show, seems like such a wrong note to hit, if only briefly and satirically. Or maybe I'm just thinking too much and wish I were hanging out on a bale of hay with Aunt Tilda Bird.