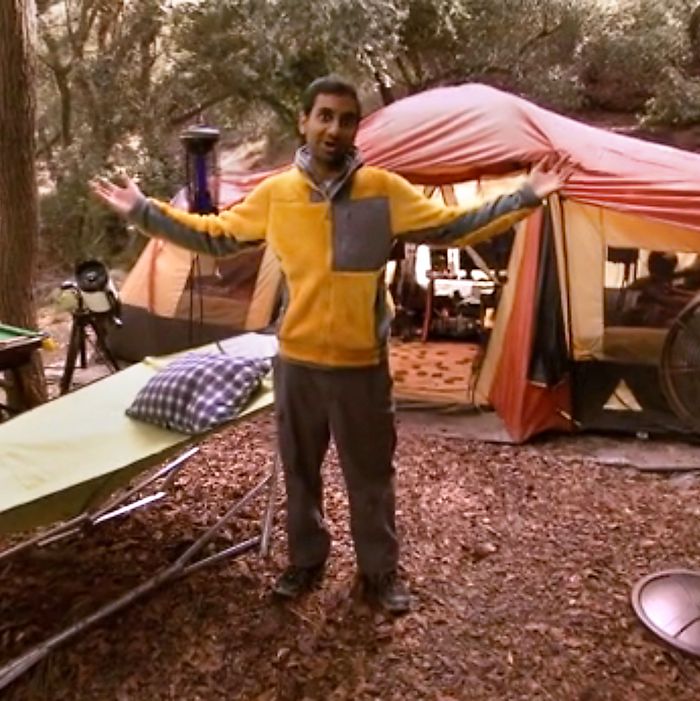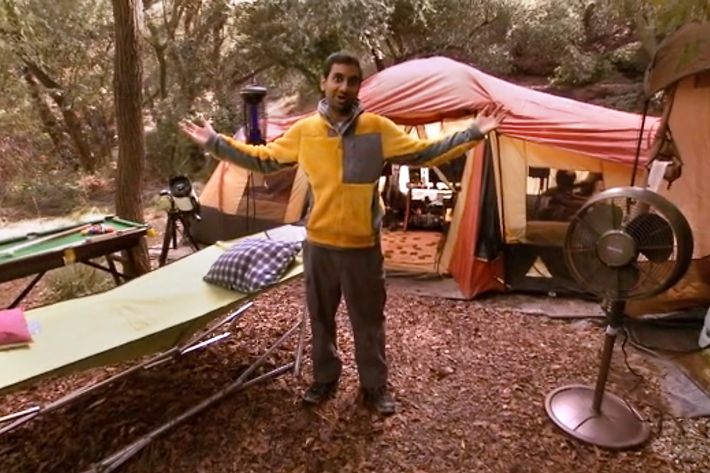 As the central question of this season of Parks and Recreation becomes how to navigate the politics of success — a far more intriguing question than how to navigate the politics of podunk ennui — the first challenge that presents itself to Leslie Knope immediately after the success of the Harvest Festival is a simple one: Now what? All eyes are on her, just as she's always wanted. Now she has full reign to empty the contents of her ideas binder.
Paul, the city manager, has a heart attack during the press conference hailing the Harvest Festival's impressive returns, collapsing with left hand clutched firmly to Leslie's breast, the second most awkward boob-grab of her life. His ensuing recuperation from octuple-bypass surgery sets the stage for Chris Treager's return, much to Ann's consternation.
Leslie orders a mandatory camping trip for the parks department so they can brainstorm ideas for what to do with the department's newfound capital. Count April and Ben among the objectors. Ron, of course, can't wait to get outdoors and do some restorative fishing — it's like yoga, but you still get to kill something. Tom protects himself from the elements by going to town on Skymall, complete with hammock, game system, head massager, and, of course, trusty D.J. Roomba. Andy has the perfect plan to sell April on camping: Champagne, balloons, and her name spelled out in rose petals. Only problem is that he's pitched his tent several miles from the campsite.
The team starts brainstorming ideas — Tom's amphitheater, intended to draw the likes of Jay-Z and Drake, seems particularly implausible, while Ron wants to disperse the harvest Festival's profits to every household in Pawnee — everyone feels like they're really just killing time before Leslie announces her big idea, which is the idea they'll go with. After the sun sets gloriously — thank the pollution from the Sweetums factory for the brilliant colors — Leslie confesses that her big idea is … nothing. She's tapped out.
Out of food and out of patience, people start getting up to leave, but Tom's generator, having drained the van's battery for ten hours, makes escape impossible. The only refuge is the Quiet Corn, a creepy, cat-infested bed-and-breakfast up the road that doesn't skimp on the hard-boiled eggs, homemade tomato slices, and German muffins. Andy finally tracks them down there and sets up the tent, and the rose petals, minus most of the Champagne, for April, who hates this inn even more than the outdoors. Meanwhile, Ann is talking things over with Chris at a nearby rustic diner, and misinterprets his general enthusiasm for interest in her all over again and now she has no choice but to move.
Leslie is in her room, feverishly scrambling for ideas to the inspiring one-hit-wonder tones of Len's "Steal My Sunshine," and Ron coaxes her out to show her his idea … which is to lock her in a storage room so she can actually sleep and not work for a few hours. She emerges in the morning, after seven full hours of sleep, with a doily full of ideas, including a new observatory and theme nights at the park.
This isn't the first time the gang's gone to the woods together — last season's "Hunting Trip" was one of the breakout episodes that saw the show finding its momentum and figuring out how to transfer the dynamic outside of the office. This episode is somewhat more of a placeholder, setting up how the show's going to go forward now that there are bona fide expectations — not just of Leslie and her department, but of the show itself, just this week renewed in a pleasant reversal from last year's dangling. Although it sure would be nice to hear confirmation of a fall premiere date …