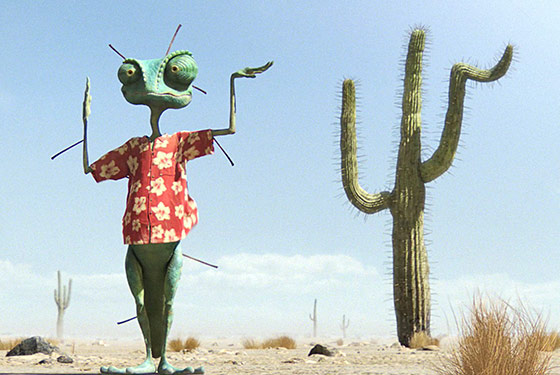 Pixar has run Toon Town for some time now. But as of this Friday, there's a new gang in town: those badass sons-of-guns from George Lucas's Industrial Light & Magic, with their Pirates of the Caribbean ringleader, director Gore Verbinski, packing considerable heat. Their animation debut, Rango, has introduced a serious and legitimate new animation powerhouse.
In Verbinski's thrillingly goofy, unabashedly strange Western odyssey, Johnny Depp voices a daydreaming pet chameleon whose terrarium gets bumped out of the back of a station wagon and into the desert. When his world literally shatters around him, Rango finds himself at the precipice of a half-dozen movies: a mythic stranger-comes-to-town Western (a dusty town needs a new sheriff); a Chinatown-like noir (there's a mysterious water shortage); an action film (Watch out for the hawk!); and a nonstop, silly slapstick gag reel. As such, the plot of this PG film might be a bit convoluted for young kids, but the total sensory overload should keep them happy. This manic film just never stops delivering.
The fast-talking, lily-livered Rango is a lab-engineered comedy star, whose heavy-lidded eyeballs out-bug Steve Buscemi's. They're paired with spindly arms, a spazzy tail, a bright-red Aloha shirt, and herky-jerky reptilian reflexes. He's an expertly animated klutz, and, like Chaplin's Tramp or Captain Jack Sparrow, Rango is a deluded dandy whose heroic self-image remains intact no matter the wreckage he leaves in his wake. Depp's Captain Sparrow was part Keith Richards, part Pepe Le Pew; this time he's channeling a whole lot of Gene Wilder, circa Blazing Saddles — with a dash of the late Hunter S. Thompson (who gets an unlikely cameo).
When Rango molts his skin, it shrinks tight, then sizzles into ashes. When he sips "cactus juice," he belches flames. Chased by hawks and snakes and lizards, Depp howls, screeches, bleats, and yelps — sounding, basically, like he's having the fun he wasn't allowed in The Tourist. All of the plot points — Rango falls in love with a lizard, saves the town — are in the service of the film's bright daisy chain of gags and jokes and pratfalls and chases that somehow feel more spontaneous than most live-action comedies. It helps immensely that Rango's sharp script was written by John Logan, who wrote The Aviator and Any Given Sunday.
In addition to Rango, there's a tumbleweed town packed with rats and reptiles and a big, bad rattlesnake with a pistolero tail. Some of the creatures are recognizable, like the lovely little mouse voiced by Abigail Breslin, or the mariachi band of morbid owls. But the best are bizarre mutants unbound by zoology textbooks: a subterranean sort-of rodent with a tumescent tumor for a nose; a dinosaurlike thug in a bowler hat; and a beady-eyed prospector with an endless beard. Voicing these misfits are a superb crew of character actors (including Isla Fisher, Alfred Molina, Bill Nighy, Harry Dean Stanton, and Ray Winstone), all clearly having a ball.
Given this comes from ILM, you can be sure the action sequences are whiplash-fast, visceral, and easy to follow — particularly one canyon-hurtling riff on Star Wars. Other animators, like Robert Zemeckis, strain so hard to make animation feel real, but ILM and Verbinski do the opposite, putting all their animation technology into the service of a loosey-goosey acid trip. Rango is a reckless joy, and I'm already looking forward to the Pixar-ILM shoot-out at next year's Oscars.