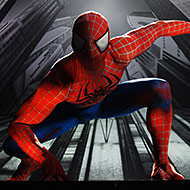 It's official: The beleaguered Broadway production of Spider-Man: Turn Off the Dark has announced its long-rumored opening-night delay (it's now rescheduled for "early summer") and the hiring of Broadway vet Phil McKinley, director of the Tony-winning play The Boy From Oz. Contrary to the producer's previous statement, Taymor has been removed as director and McKinley is in. In a meeting with the cast, co-creator Bono said that Taymor would still be a part of the show, but would not be there from day to day.

Said the producers in a statement:



"Julie Taymor is not leaving the creative team. Her vision has been at the heart of this production since its inception and will continue to be so. Julie's previous commitments mean that past March 15th, she cannot work the 24/7 necessary to make the changes in the production in order to be ready for our opening. We cannot exaggerate how technically difficult it is to make such changes to a show of this complexity, so it's with great pride that we announce that Phil McKinley is joining the creative team."
Those familiar with Taymor and the show say that problems have been long-simmering, and stem from her unwillingness to accept outside criticism and changes. According to four of her colleagues, Taymor refused to meet with outside collaborators; did not act on suggestions for improvements; and disagreed with cast and crew about changes to the musical's story. The show's producers and Taymor's co-creators Bono and The Edge also expected she would make more changes to the show's problematic second act. In the end, they decided she lacked the objectivity to make the necessary changes to the show.
Eventually, producers Michael Cohl and Jeremiah J. Harris lost patience with Taymor. And on Monday, Cohl told Taymor she had to leave.
"Julie's an extremely sensitive person, and she has always felt like a mother to her plays, a mother to her characters," said Jeffrey Horowitz, a friend and artistic director of New York's Theater for a New Audience, and one of the few people who has gone on record about the Taymor and the production. "This is like a mother being taken away from her family. She loves that family. She wants that family."
Good luck with this one, Bono!