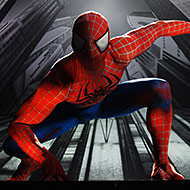 The producers of Spider-Man: Turn Off the Dark have decided to fire director Julie Taymor and delay the show's opening for another three months in order to perform a "significant" overhaul, sources close to the musical told the Daily News.
"Taymor is out. She's left the building," a source told the Daily News.
The show has been hit with endless production delays, budget overruns, cast injuries, and largely negative reviews. New York's Scott Brown wrote that the play is "by turns hyperstimulated, vivid, lurid, overeducated, underbaked, terrifying, confusing, distracted, ridiculously slick, shockingly clumsy, unmistakably monomaniacal and clinically bipolar. But never, ever boring."
The Times noted "no one has worked on 'Spider-Man' more intensely than Ms. Taymor, who is its director, one of its script writers, its mask designer and far and away its chief creative force." She told the TED conference this week that "anyone who creates knows — when it's not quite there … Where it hasn't quite become the phoenix or the burnt char. And I am right there … It is my trial by fire. It's my company's trial by fire. We have survived because our theme song is 'Rise Above.'"
The Daily News also said the production would temporarily shut down for two to three weeks to retool yet again, driving up the the price tag of what is already by far the most expensive production in Broadway history. There was no word as to who might replace Taymor, although press reports in February said that Phil McKinley, director of the Tony-winning play The Boy From Oz, might be brought on as a co-director.
On Tuesday, show press representative Rick Miramontez said: "Opening night remains scheduled for March 15." This week it completed its 99th performance in previews, more than any other show in history. At least they broke one record, right?
Julie Taymor out as 'Spider-Man' director as producers temporarily shut down Broadway musical [NYDN]
Sources: "Spider-Man" Director Leaves B'Way Production
[NY1]
'Spider-Man' to Postpone Its Opening [NYT]

This post has been updated with additional information.