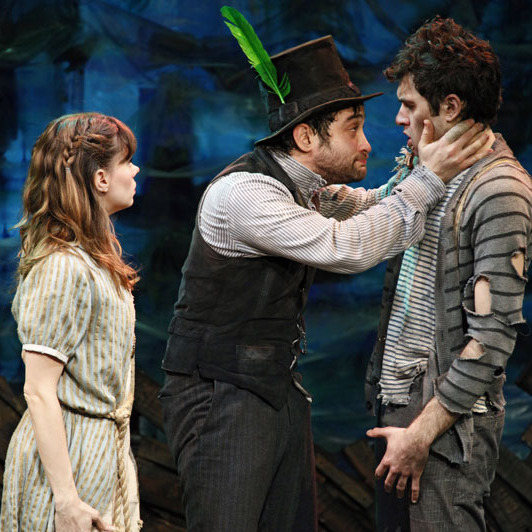 Photo: Joan Marcus/Courtesy shot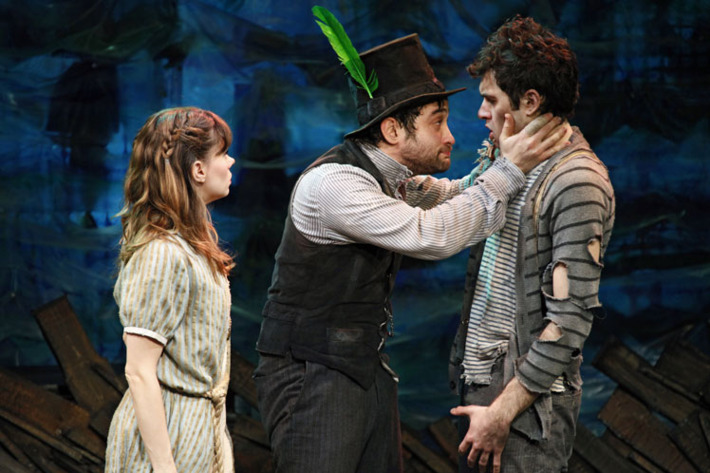 Peter and the Starcatcher, the new stage prequel to J.M. Barrie's Peter and Wendy and its many adaptations, comes flying out of harbor on strong winds of whimsy. So laden is this show with sheer talent — co-directors Roger Rees (best known as the star of The Life and Adventures of Nicholas Nickleby) and Alex Timbers (Bloody Bloody Andrew Jackson), choreographer Stephen Hoggett (of Scotland's brilliant Frantic Assembly), book writer Rick Elice (Jersey Boys) and the rightly celebrated actors Celia Keenan-Bolger and Christian Borle — that it's not immediately obvious Peter is a slowly sinking ship. Ah, but what a lot of fizzy fun it has on its inexorable way down to Davy Jones's greenroom!
Adapted from the children's novel by Dave Barry (yes, that Dave Barry) and thrillerist Ridley Pearson, the show plays like an exuberant theatrical overreaction to a not-insignificant artistic dilemma: How to adapt for the stage a book that's basically a screen treatment? (Significantly, the play was commissioned by Disney Theatricals.) Barry and Pearson's novel is a straightforward please-option-me boys' adventure yarn, more a set of camera angles and shot selections than a story. It depends on some inherently cinematic, self-consciously "epic" architecture. Turns out, Peter's origins can be traced to a celestial magic-and-mischief-making substance called Starstuff (think fairy dust, minus the faith and trust) and a cult of Templar types sworn to protect it: A girl Starcatcher (Keenan-Bolger) meets an orphan boy (Adam Chanler-Berat) on a sea voyage to dispose of this dangerous astral phlogiston, and the rest is history. The playmakers instinctively paddle away from all this mythic midichlorian-ish BS almost as fast as they flee the book's cinema-literal storytelling. We instead embark on a breakneck demonstration of scrappy poor-theater creativity (ropes evoke pitching decks and tiny passageways, spray bottles kick up sea mist) that will prove a surprise and a delight for children raised on Ritalin-speed Nicktoons, and for that matter parents weaned on Family Guy pop cutaways. (Both modes are indulged, perhaps to excess.) The shipboard scenes are especially ingenious.
As soon as it makes landfall, however, Peter starts to run out of theatrical steam. We're marooned with a hero who never feels like much of a hero. Chanler-Berat's Pan is a bit of a mope, one whose transformation to empowered, ever-young boy-god we're supposed to await and applaud. But he's a drag. Everything about him, from his stoop to his whine to his hipster hoodie, feels like a passport to passivity and indifference. We gravitate instead to Keenan-Bolger's Molly, an apprentice Starcatcher. She's a charmer, but a rather monotone one — she's all British stiff-upper-lipness and girl-heroine pluck. For her, the mission is All, or nearly all. Protect the Starstuff! At all costs!
There's just one problem: We don't really care about the Starstuff, and neither, really, does the villain who's supposed to be after it. Borle's brassy Black Stache — the future Captain Hook — is a hoot, but he's dragging a tremendous amount of deferred plot flotsam, especially at the show's muddy, talky finale, which he has to emcee more or less (ahem) single-handedly. Peter, all two and a half hours of it, feels like it's towing its entire development process in its wake. If it can cut a few things loose, plant a foot somewhere, and embrace what it is — a plucky, inventive little children's show and fabulous kidvertisement for the thrills of pure theater — the show could have a long life of never-ending youth. But a little growing up might do it good.