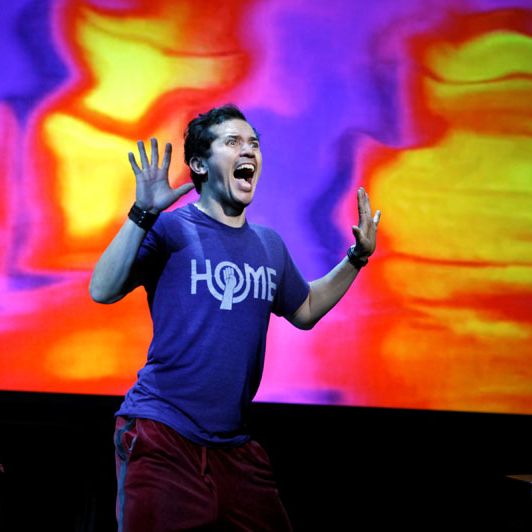 Photo: Carol Rosegg/Courtesy shot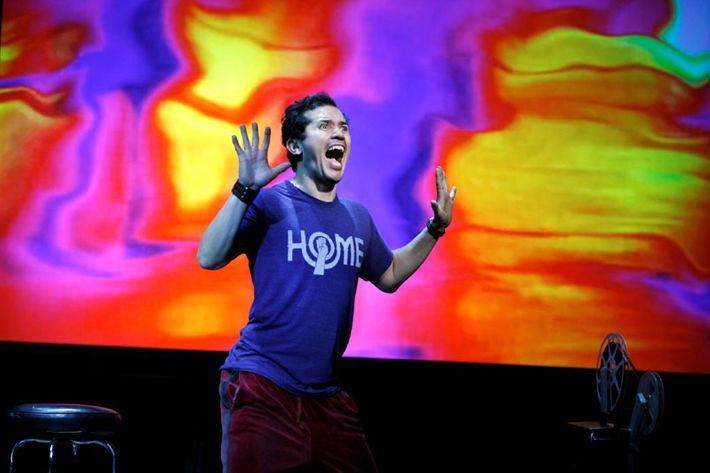 John Leguizamo, now in his mid-40s, opens his fifth one-man show in classic b-boy mufti, executing a frenetic, cock-of-the-walk b-boy dance-off: Johnny Legs vs. Johnny Legs. There's no clear winner, and the dance terminates in an aborted full split. "I can't do that anymore," admits Leguizamo, hoisting himself up, openly panting.
Mother of mercy, is this the end of Rico? It's been ten years since the actor/comic/impressionist's last solo autobio-rama (2001's Sexaholix: A Love Story), and the question hangs heavy over Ghetto Klown: Will this be the dreaded settling-down show? Where the performer, man-child and committed narcissist that he is, finally finds a measure of peace in children and family and long-deferred adulthood, after a lifetime of high highs and low lows, big dreams and bigger disappointments? The two-hour-and-fifteen-minute running time — not quite 700 Sundays, but getting up there — suggests it is.
Well, yes and no. Leguizamo is intensely talented, and his talents, as he himself is first to admit—are best suited to the stage. (Theater, he says, is his "religion," a "soul-exchange" with his audience.) He's a preternaturally gifted impressionist — as you can see in his riffs on his former co-stars, most notably old-school alpha-dogs like Kurt Russell, Steven Seagal, Al Pacino, and Patrick Swayze — and is still a 4,000-watt bulb of energy. But he is not a happy man, and to his credit, he knows it. "Sharing my unhappiness on stage is my happiness," he says forthrightly. The utter self-absorption built into that statement is the key to Ghetto Klown: It both propels and repels. Your capacity to enjoy the show depends entirely on your affection for both the vintage Leguizamo of old (the dance-breaks, the bittersweet family-impressions, the vaudevillian how-poor-were-we? joke setups) and this newer, older Legzie — a man who savors his shortcomings and disappointments like a fine cigar.
What does John Leguizamo have to be disappointed about? Plenty. Leading men (especially the white ones) have tended to treat him like the hired help — and, in the case of Sean Penn, like a punching bag. He's still bitter about the fizzling of his early-nineties Fox sketch show House of Buggin. ("They fired me … But they kept my format, my writers, my directors, and the only white guy, and they called it MADtv.") And he's still mad at his dad (who sued him for defamation circa Freak). Following him from his seventies youth in "ghettorific" Jackson Heights through his eighties struggle to become a working Latino actor to the trials and tribs of incipient fame in the nineties, we're kept keenly aware of his formative performance: cutting up on a 7 train P.A., entertaining the passengers with impressions, before getting cuffed and booked. Is Leguizamo owning his younger self, or simply wallowing in it? Is this therapy, growth, or both? That's the wonderful thing about narcissism: You don't have to choose. And neither do we. There's much to appreciate in Leguizamo's act. (And it's definitely an act — the personal-history arc aside, there's no pretense of a play here. More than in former shows, he, not his characters, is the evening's undisputed protagonist and raison d'etre.) He's really an old-fashioned entertainer, even at his most syrupy and navel-fixated, he can hold a room rapt. This is, after all, a man who bit Lee Strasberg. And he still has more than a few teeth left.