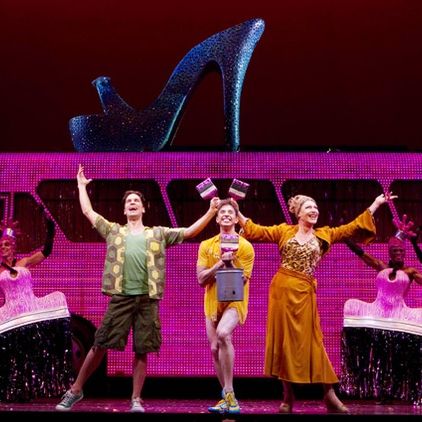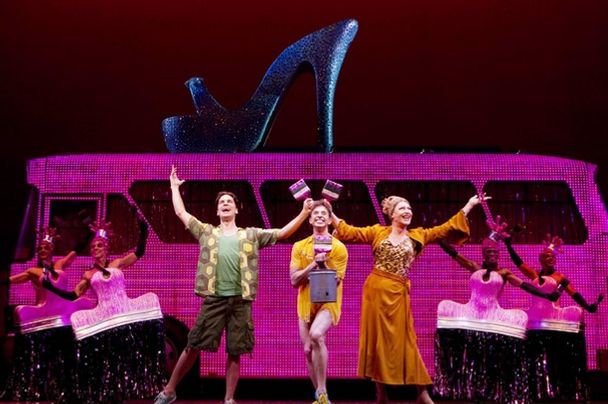 A lip sync of a lip sync of a lip sync, Priscilla, Queen of the Desert: The Musical arrives on Broadway in a flurry of pink feathers, delivering more or less exactly what you'd expect of a jukebox musical about three drag queens' braving the spangle-resistant Australian outback in a beat-up tour bus. (The show is based on the similarly titled 1994 feel-good movie starring Terence Stamp.) We're treated, in other words, to a high-speed Automat of toweringly tasteless costumes, camp levels so dangerously high you'll be finding stray sequins in the dryer for years to come, and a set list — sorry, a score — stuffed to its glittery gills with karaoke yester-hits: There are so many showstoppers, in fact, that I occasionally wondered when it was actually going to start. (Can anyone in the Western world survive another "I Will Survive"? The Act One finale suggests that we can, and must.)
Priscilla is nominally about journeys outside of one's comfort zone, but this show is quite content to remain ensconced in the safe environment of the theater — on the odd occasions when it ventures into the rough-and-tumble Real World, results are iffy. Nothing you'll experience here travels far outside the Palace's walls, but that's just fine. Priscilla is a well-above-average drag show with the pink afterimage of a plot, and three superbly sincere leads who fleetingly convince us we're seeing an actual musical with a real emotional arc. This being drag, the illusion is enough.
Chief sustainer of this illusion is the disciplined Will Swenson, who plays Tick, a thirtysomething future has-been on the Sydney drag scene. Unbeknownst to his fellow queens, he's got a secret son (played by the adorable moppet Luke Mannikus on the day I saw the show) living in rural Alice Springs with Tick's ex-wife Marion (Jessica Phillips), a casino manager. She wants him to be a bigger part of his son's life; he's paralyzed with shame and fear. Fatherhood, it seems, isn't easily lip-sync-able, but Tick reluctantly agrees to play a gig at Marion's casino and get to know the boy. For strength in numbers — and to fill out a trio — he enlists the help of dour, post-op transsexual diva emerita Bernadette (Tony Sheldon) and vain party boy Adam (Nick Adams), a.k.a. "Felicia Jollygoodfellow." Their adventures on the way to Alice Springs — running aground in a series of rough Ozzie redneck towns, crossing swords with narrow-eyed local yokels of varying levels of homophobia — are little more than cues for wardrobe changes and drag standards ("Like a Virgin," "Don't Leave Me This Way," "It's Raining Men" — they're all here). Yet Sheldon, Adams, and Swenson take their characters far more seriously than the zinger-riddled script does, and by the end of the trip, we've actually begun to root for them, not just their backing tracks. And a word about those backing tracks: They're live. The inimitably female register of the score is provided by three "Divas" (Jacqueline B. Arnold, Anastacia McCleskey, and Ashley Spencer, each an expert vocal imitator in her own right) who hover angelically above the action like Taymorian goddesses (only without the Taymorian fly-malfunctions).
By all accounts, Priscilla (already a venerable hit in England and Australia) aims to be a family-friendly drag-musical that's edgier than La Cage, and less edgy than, say, Kiss of the Spider Woman. I'm not sure the show's less focus-grouped moments — its second-act musicalized gay-bashing scene (set, with questionable finesse, to "Hot Stuff"), its many F-bombs, or its plentiful anal-sex double-entendres — are going to further that cause with the average tourist. (Oh, and if you're a fan of the film's famous Ping Pong–ball scene? It's in there, baby.) On the other hand, drag itself feels like a pretty venerable institution itself these days, perhaps even a safely defunct one. Priscilla is really something of a relic, closer kin to the culture wars of the eighties and nineties: It's a prefiguring of the gay diaspora, the marriage debate, and the question of child-rearing, not a treatment of it in the here and now. But then, if you're at Priscilla, you're not there for the here and now. You're here to move your lips, and perhaps your hips, to the sounds of yesterday. And with singalongs tacitly encouraged from the get-go and confetti falling from the ceiling inside the first twenty minutes, chances are you will.