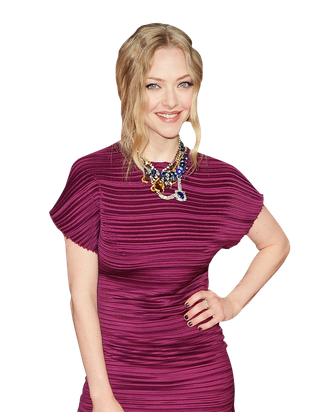 Photo: Jason Merritt Images/Getty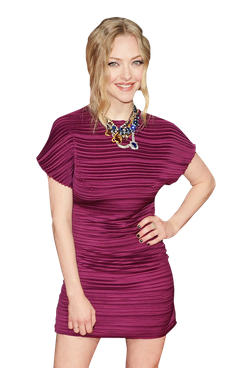 Amanda Seyfried is making moves! Red Riding Hood, a sexed-up take on the Brothers Grimm's smash hit in theaters today, is arguably her biggest starring role to date. The reviews, so far, are putrid (according to the critics, it's either too much like Twilight or too much like Burning Man), but who cares? The movie is tracking well; come Monday, we'll see if actually manages to carve off some of that massive Twihard demographic. And if it does land on its feet, what will that mean for Seyfried's career? She's only 25 and has already racked up some big box-office wins. So is legit movie stardom in her future? To find out, we asked industry insiders the weekly question: If Amanda Seyfried were a stock, should you buy, sell, or hold?
Stock History: Seyfried started small, moving from teen modeling to recurring roles on As the World Turns and All My Children before making a moderately sized splash in Mean Girls. She was great as a requisite dumb blonde with meteorologically inclined breasts, but the limited role was in no way a harbinger of big things. To her credit, she put her head down and worked her way out of the box: After a string of TV guest spots (CSI, House) and small movie roles (Alpha Dog) and indies (Nine Lives), she broke out with a well-received run as the rebellious daughter on Big Love. The show's quality started to slip in Season 4, which is when she decided to make her break for the movies. First came the musical Mamma Mia!, which made $144 million domestically, and another $465.7 million internationally. But she refused to let the smash success of that film let her be pigeonholed as the kind of sweet innocent who only needs an ABBA song to keep her happy. She started alternating sugary romances with dark, sexy thrillers, though it was the lighter fare that scored far more reliably: First the dark bomb Jennifer's Body ($16 million), then the syrupy Dear John ($80 million), then the erotic thriller Chloe ($3 million), and then the "classy" love story Letters to Juliet ($53 million).

Peers: It's an eclectic batch, including both a big name like Kristen Stewart (20) and up-and-comers Emily Browning (22), Theresa Palmer (25), Mary Elizabeth Winstead (26), and Imogene Poots (21). Safe to say Seyfried is securely ahead of the latter names, but still behind Stewart and her money-gobbling franchise.
Market Value: Seyfried has neither been credited nor blamed for some of her biggest hits and misses, which is bad and good: Mamma Mia! 's grosses were chalked up to the deathless charm of ABBA, while Diablo Cody and Megan Fox took all the blame for Jennifer's Body. As for Chloe, Seyfried got all the titillation points for the endless hype about her sex scene with Julianne Moore, but the Atom Egoyan thriller was still considered an art film; those are never expected to do that well. Technicality! However, with the successful Dear John, Nicholas Sparks's pedigree may have been what got people to buy tickets, but they walked out remembering Seyfried, not humming "The Winner Takes It All." And she can take full credit for Letters to Juliet, with her face taking up half the poster. (Take that, Vanessa Redgrave!) She's equally dominant in Red Riding Hood, which seems to be a blend of her dark and romantic poles. If this hits in spite of the reviews, her value will shoot up. (And time will tell if she dodged another box-office miscue by dropping out of Zack Snyder's Sucker Punch, a film she would have shouldered much more responsibility for at this point in her career.)
What Hollywood Thinks: There's a whole bunch of respect for Seyfried's career choices, starting with the people she works with. "Her agent is Abby Bluestone, who arguably has the best eye in the business," according to another agent. And "she's been working slowly and steadily doing good work: Mean Girls, Big Love, Dear John, Letters to Juliet." There's no love for the "awful" Red Riding Hood here, either, but the agent likes that "it's at Warner Bros.; that's a 'big boy' studio. These days, you have to have your own movie that you carry. And if she carries it for Warner Bros., that's very good for her, because usually you get those kinds of chances at smaller studios and smaller movies at Screen Gems or Summit." And, ultimately, it's a managed gamble for Seyfried to step up alone on this one: "The expectations are a bit lower for her: Female-driven movies just do not do as well as male-driven movies."
"She's been working for a while, she's pretty, I think she's talented," says one publicist. And, again, the crappiness of Red Riding Hood might not be that big a deal: "It actually matters more if you were the best thing in a bad movie than just being in a great movie." Adds a manager, simply: "She's made strong choices and also strong decisions about which projects to quit."
The agent, one last time: "The challenge with her is the challenge with all these young actors as they develop from girls to women: Sometimes, as they naturally get older and more mature, they aren't always able to make the transition from teen or naïve college kid to being a full-fledged woman with maturity and depth onscreen. It happened with both Kirsten Dunst and Julia Stiles. As they get older, they worked less, too."

The Analysis: Hollywood is rooting for her, and you can understand why — there is always a need for more young, smart, beautiful girls who can handle the pressures of the gig and are down to try to carry big movies. And she's flashed some edge: The Chloe sex scenes scored her points. "It was a very challenging role, and a complete departure for her," says the agent. "No one watches his movies, let's be honest, but she really stretched herself as an actor, and impressed a lot of people out here." That means she's now in the conversation for increasingly more interesting roles, like Daisy Buchanan in The Great Gatsby and Philip Seymour Hoffman's daughter in Paul Thomas Anderson's Scientology movie.
She seems to be avoiding the rom-com niche that most young actresses are stuffed into, but she is also gravitating toward mainstream fare. Red Riding Hood may look stylistically edgy at first glance, but it's clearly just going for the Twilight audience, and there's nothing dark about that business plan. Her next big movie will be the sci-fi flick Now (previously I'm. Mortal), in which she escapes alongside Justin Timberlake from a creepy futuristic society where aging doesn't exist. It sounds (very much arguably!) promising, but again, not necessarily the kind of prestige role that'll have esteemed directors clamoring to work with her. But she'll still be a star.
The Bottom Line: Unless Red Riding Hood really craters, Seyfried's secure. But to jump up a tier, it seems clear that she needs to actually land one of those high-profile roles like Gatsby (Carey Mulligan snagged that one). Chloe was a step in the right direction, because it's the critically acclaimed roles that give a better assurance of longevity. However, she's only 25; the fact that she's not doing 3-D remakes of eighties slasher films already shows that she's off to a promising start.

Buy/Sell/Hold: Buy