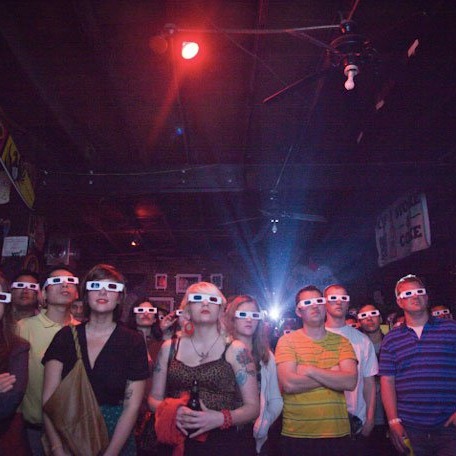 Photo: Erik Sanchez/Courtesy shot
South by Southwest begins in the security line of whatever airport you're flying out of; you can already tell who's going to the festival, and why, and how they feel about it. There's live music on arrival in Austin, and the terminal is full of people with shaggy hair and skate shoes. By the time you're off to your hotel, you're hopelessly immersed. On one shuttle there's a couple rocker kids making a series of phone calls that sound like Entourage with all the Hollywood names switched to music-biz ones. ("What up, son? Please tell me you're in Texas and not L.A. You're killing me. My birthday falls on the 18th this year, we're gonna get rowdy.") They rapidly meet another guy with an upcoming birthday, who's here to take some meetings about his web startup.
Almost everything I've read about SXSW this year — including this, from NPR's Ann Powers — revolves around anxiety and stress and the fear of missing out, the pure logistical pressure of picking a path through a ridiculously outsized mega-mega-festival that's basically like 50 regular-sized festivals all happening at the same time. The only person who seems undaunted by this is a critic who tells me he's a monster, that he would go to this every other week, if he could, and see sixteen bands a day while bashing out reports with his fists. We're both just sitting down in the back of a venue when he says this. There seems to be a calming ritual where everyone else here reminds one another about pacing, comfortable shoes, and giving in to chaos — even a cab driver says it seems much more romantic to just wander around with open ears and see what happens. My open ears wind up catching lots of weird rumors about big names secretly playing elsewhere, half of which seem like somebody made them up in an effort to clear out the venue and shorten the beer lines.
I spent Tuesday night at Pitchfork's SXSW Interactive showcase, at Emo's, with one stage leaning toward British bass music, another toward American indie-rock, and a brief showing of some 3D videos from Pitchfork TV. I should disclose here that I contribute to the sponsoring website, and that, amazingly, Wavves' Nathan Williams looks even more than usually callow and snotty and roadworn in 3D, which I mean as a form of aesthetic compliment.
Best thing about the night: Jamie Woon, a UK r&b singer who's done some lovely, atmospheric tracks with the producer Burial. For a guy who's still a bit up-and-coming, Woon's live set is remarkably seasoned-sounding — his four-piece group can switch seamlessly from doing traditional live-band R&B to working samplers and drum machines for gauzier material. (They make a point of doing exactly that when playing the single "Night Air.") The fact that he can make this stuff sound crisp and charismatic, early in the evening in a crowded bar's back room, feels like proof of something or other. Same goes for his shoutout to the recently retired Phil Collins, whose "In the Air Tonight" could be an oversized spiritual kin to "Night Air" — just without the R&B slink Woon rolls, smiling, into everything he does tonight.
Equally good, out on the rock stage, was the San Francisco band Weekend, doing a pretty great job of selling their pretty-great LP, Sports. Not that you can always tell through their rickety recording, but the appeal of this trio is straightforward and awfully grand: They bring a kind of sweaty, anthemic glory to making shoegazing guitar noise, and if their singer's voice isn't exactly the glorious kind, well, he'll just moan through trails of echo and reverb until it sounds suitably epic. On stage they make a joyful, muscular, drums-pounding squall, the kind of thing that makes people take out their earplugs and just enjoy being bathed in noise for a while. Given the number of indie acts in town whose lo-fi wash is a lot more womb-like, hearing a little metronomic stomping feels like a treat.
Sometime between watching the English duo Mount Kimbie wash a room in deep pulses and heading out, I noticed one person — amid a sea of discarded folding-paper 3D glasses — holding a pair of actual plastic red-and-blue 3D Wayfarers. Two other people were discussing it: Where do you get those? Is that person working? Did you have to come early for those? That ambient anxiety about missing things could be blamed on cellphones or Twitter, and the sudden capacity to actually hear about all the great things happening in places you're not. But it's probably just about something more banal and status-oriented: Someone's got access to a higher grade of 3D glasses. Someone else's shoes look more comfortable than yours. This seems like the other reason SXSW actually starts at the airport: Because there's nothing like waiting in long lines and clocking who gets expedited service to set off little pangs of status panic about planning and access and whether you're doing it all right.