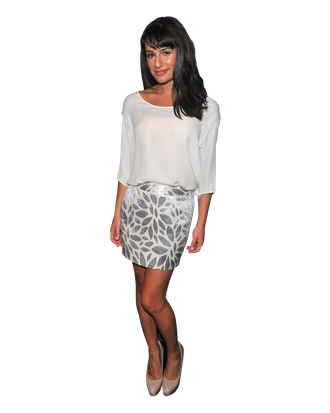 Photo: Alberto E. Rodriguez Images/Getty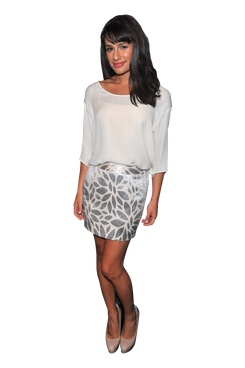 In the most recent episode of Glee, high school diva Rachel Berry — who's spent much of this season as the butt of other characters' jokes — is finally swarmed by the members of her glee club for a group hug, her undeniable talent conquering all. Will her portrayer, Lea Michele, receive the same embrace from Hollywood? She's definitely got the chops for it (with Emmy and Golden Globe nominations under her belt for Glee and a Drama Desk nomination for her work onstage in Spring Awakening), but it's easy to get typecast on television, especially with a character as heightened for comic effect as Rachel. It's clear that Michele has her sights set on other mediums — she's filming the star-studded New Year's Eve opposite Ashton Kutcher right now, and albums and Broadway shows seem inevitable — but will her path to bigger things be as smooth as her vocals, and can she overcome some of her PR problems? To find out, we spoke to industry insiders to answer the question: If Lea Michele were a stock, should you buy, sell, or hold?
Stock History: Michele's been doing stage work since she was 8 years old, when she landed the replacement role of the role of Young Cosette in Les Misérables. She continued acting on Broadway in Fiddler on the Roof and Ragtime, but it was her female lead in the hit musical Spring Awakening that made her a buzzed-about commodity at age 20. At that point, Michele could have become a stage star, but fate had other things in mind: Her Spring Awakening co-star Jonathan Groff had just filmed an FX pilot with Ryan Murphy (Pretty/Handsome, where he played the son of budding transsexual Joseph Fiennes) and when Murphy told him he'd next be shooting Glee, Groff suggested Michele for the part of Rachel. (Though FX didn't pick up Pretty/Handsome, that pilot proved unexpectedly beneficial to Glee in other ways, as Murphy eventually brought that pilot's co-stars, Mike O'Malley and Dot Marie Jones, onto his Fox musical.)
Peers: The 24-year-old Michele has few peers in her age group, or even on the same show; though Glee's Dianna Agron has been going out for movies, too, she and Michele are two different types. Instead, Michele takes after actresses who are older than her, including 28-year-old triple threat Anne Hathaway (who was definitely channeling Rachel Berry at the Oscars, and is negotiating for a guest spot on Glee), and 32-year-old Ginnifer Goodwin, who managed to land big-screen romantic comedies while still tethered to her TV series, Big Love.
What Hollywood Thinks: In the industry, Michele is seen as a sure bet to go from Regionals to Nationals. "She's clearly a very talented young woman, an incredible singer and actress who can do both comedy and drama," says a senior network executive. "Just like Dianna Agron and Cory Monteith, she's already doing films while still on the show, which is a smart move. There's no doubt that when the show is over, she will segue into features. She also certainly will have a music career. If they remake any of the Barbra Streisand musicals, she'll be at the top of the list. The world really is her oyster."
"The comedy she's done on Glee is laugh-out-loud funny," adds a PR maven. "There's something incredibly relatable about her, and touching. The camera loves her. She's able to convey emotion effortlessly. As obnoxious as her character is, when she gets hurt, you feel sad for her. She makes you care about her."
Though many of the people we spoke to acknowledged that Michele has had her fair share of press snafus — that too-sexy, trying-too-hard GQ photo shoot was one, and her reputation as a Hailee Steinfeld–snubbing diva is another — few think they will affect her career.
"As high-maintenance as she can reportedly be, everyone knows she's the star," says an industry insider. "Any event the Glee cast attends, she's the magnet. She gets singled out on any red carpet, even if it's not a TV red carpet. There's something incredibly magnetic about her. She'll be on Glee for as long as they can keep her character in high school, and maybe beyond that. There are some characters that the franchise could outlast. But she's integral." Does the diva rep hurt? "I don't think it would interfere with her ability to get a job, or the public's wanting to watch her. She hasn't done anything that's egregious. The worst she's done is snubbing some autograph hounds. She's not Charlie Sheen. She's not Sean Penn. She's been a little aloof. That's the worst you can say."
"Her castmates seem to be navigating that newfound stardom with more finesse and staying impressively grounded," admits the exec, "but as long as she shows up to work on time, hits her marks, and doesn't burn out, nothing is going to hold her back. This business is full of divas with far worse reputations who aren't anywhere nearly as talented as Lea."
One insider points out a danger zone that is unfortunately out of Michele's control: "My biggest fear is that Glee always seems five minutes away from completely imploding. A lot of critics say it's already imploded. Does every episode she's on the show, acting in the same impossible-to-believe story lines, taint her? When the Glee backlash grows from elite critics to the masses, will she be caught up in it? ER was still going strong, a national treasure almost, when Clooney left. But when she finally extracts herself from Glee, will it be too late?"
The Analysis: Though her stint in the spotlight is still fairly new, Michele has so far played her cards right. She'll make her big-screen debut as part of the ensemble in the sure-bet New Year's Eve, which will help establish her for romantic-comedy roles without the burden of carrying one herself. She's also held back on recording a solo album (unlike her co-stars Mark Salling and Matthew Morrison) so that when her record finally does arrive, it can actually be called anticipated.
"The next thing she does will help define her," says one talent agent. "As to what that is or should be, my instinct is [to ask] 'Range?' But then again, why hide that perfect, Streisand chirpiness under a bushel in some indie? The other problem is Ryan Murphy. They get almost no hiatus on that show. When they're not on tour, doesn't he have them in a factory making soccer balls?"
Indeed, Michele's big-screen opportunities may come down to a matter of timing. Though she's lucky that studios are hot for musicals like Wicked and Les Misérables — just two of the films she'd likely be in contention for — Glee's punishing schedule will be Michele's biggest hurdle to overcome. Murphy told The Hollywood Reporter earlier this year that he's not opposed to letting his cast out once in a while to pursue other projects, but Michele's few weeks' worth of shooting on New Year's Eve is one thing; allowing her to take months off to play the lead in a big-screen musical is highly unlikely.
Still, "If she can establish herself as a film actress, that's what she'll do," the PR maven says. "There's still a bias that TV is the little brother to film. There aren't many performers who can do film and TV who choose to do TV. She can do comedy and she can do straight ingenue drama. She'll get the Reese Witherspoon–ten-years-ago roles. And then she'll age into the Sandra Bullock–type roles. She talks about wanting to do Funny Girl on Broadway. But I wonder if she'd have the discipline and drive to set aside six months of her life to do one character again. Broadway performers who've done TV tend not to return to it afterward." Instead, the publicist thinks that if another long-term commitment is in Michele's future, "She'd do a sitcom. Anyone who's ever done a one-hour drama tries to do a comedy next if they can. The workload is so much easier."
The Bottom Line: Whether or not Glee has peaked, it seems safe to say that Michele hasn't. There are simply too many inevitables yet to come from her — including the romantic comedies, the albums, and the return to Broadway — for anyone to underestimate her future. Michele should work on ironing out that diva rep (since it's one of the few things she actually has control over), but otherwise, all she can do is simply cross her fingers that Glee doesn't preclude her involvement in other projects. It'd help, too, if the show would consistently portray her as the sympathetic Rachel of the last few episodes, instead of the possessive monster she was when the second season began.
Buy/Sell/Hold: Buy