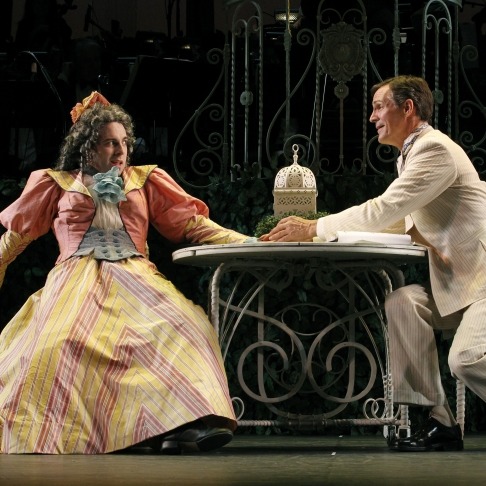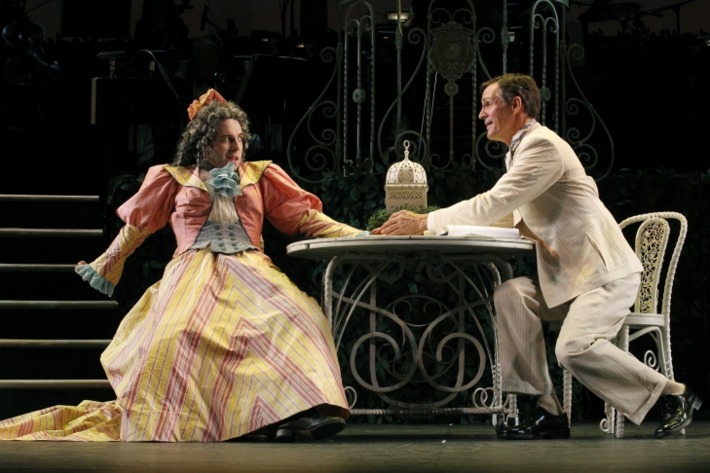 Frank Loesser's first musical, Where's Charley?, is far from his best. (For my money, that's still Guys and Dolls, though the field is a crowded one.) But this show — based on the light British farce Charley's Aunt — still stands up as a witty delivery system for some of the composer's definitive tunes. In songs such as "The New Ashmolean Marching Society and Students' Conservatory Band," "Make a Miracle," and, of course, "Once in Love With Amy," fans will discern, in embryo, the shapes and colors Loesser would deploy to dazzling effect for the rest of his too-brief career on Broadway, as he helped set the cornerstone of what we now consider classic American musical theater.
In John Doyle's simple yet typically inventive staging for Encores!, human superball Rob McClure (Avenue Q) plays the title character, an undergraduate forced by ludicrous circumstance to impersonate his wealthy dowager aunt in order to win the hand of Amy (Lauren Worsham), help his friend Jack (Sebastian Arcelus) get hitched to Amy's comely friend Kitty (Jill Paice), and mollify Amy's tyrannical plutocrat father, Spettigue (Dakin Matthews). As the ranking adults, marble gods Rebecca Luker and Howard McGillin embroider the edges of Charley with their golden voices, but this is McClure's show — and he takes ownership without hesitation. He's been playing Chaplin in a new musical out at La Jolla, and the influence is clear: With a few choice nods to Ray Bolger's iconic take on the role — the way mischief curdles instantly to terror in his big, impish eyes — McClure creates a physical vocabulary that's part Little Tramp, part Gene Kelly, and all Rob McClure. (In this, he gets a bold assist from choreographer Alex Sanchez, at the top of his game.)
Where's Charley? is at City Center through Sunday.
Virginia Woolf, in her quest to discern pattern in the "cotton-wool" of life's noise and clutter, represented the apex of the modernist experiment: a tidy, impeccable, empirical mind beset with madness from within and without. Clarity in the face of chaos, at which she excelled, was hard-bought, especially given what she was trying to articulate, i.e., nothing less than a reason to go on living, working, and writing in the face of seemingly insurmountable despair. With Room, an 85-minute dance recitation of Woolf's selected writings, Ellen Lauren attempts to physicalize that mind with motion, interpreting the author's words and thoughts in a series of highly choreographed movements that she and director Anne Bogart develop into a stage language. For Woolf, an artist who never abandoned language until the day she walked into the river — who forced language not to fail her, who rejected the postmodern with English vehemence — the sight of someone dancing her thoughts would surely amuse; and indeed, Room gets off to a stubborn, obtuse, black-box-y start, front loaded with throat-clearing and case-making. Lauren's delivery sounds a wee bit Mrs. Doubtfire at first, and for a good half-hour we wonder if we're watching nothing more than highfalutin semaphore. But halfway through, the flint hits the steel, and the show's soul catches the flame. Room isn't a perfect translation of Woolf's gestalt, but watching Lauren climb the walls of Neil Patel's terrifyingly empty set leaves one images, both haunting and heroic, of a great mind abandoned to itself — free and unmoored, equally.
Room is at The Women's Project.