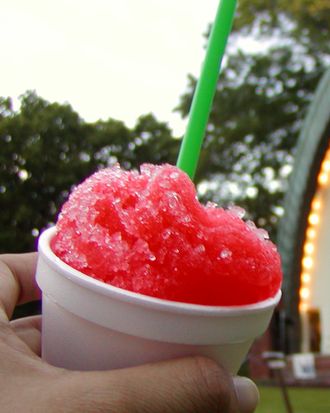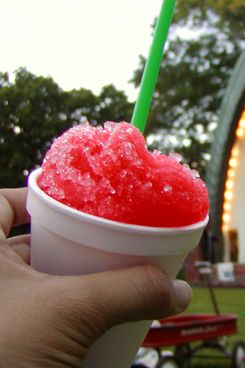 If there is one good thing to come out of Charlie Sheen's machete-wielding, rooftop-and-Internet existential crisis, Gary Herring believes it is this: More people will come to know the sublimely refreshing summer pleasure that is Tiger's Blood. While it may be anathema to much of the country, the American South has actually been slurping Tiger's Blood, and its delivery device, shave-ice, for decades. Herring knows, because he owns HawaiianShavedIce.com, a North Carolina–based online retailer that sells about a hundred thousand gallons of shave-ice syrup in 85 flavors every year. Tiger's Blood, he says, is always one of his best sellers, and recently has risen to No. 9.
Just what makes up the icy plasma varies state by state and vendor by vendor, as does the frozen matrix in which it's served, but Herring's is a mix of cherry, strawberry, and watermelon syrups with "a hint of coconut."
"You'll have a crowd of people who'll cling to having created it, but there's always been Tiger's Blood," explains Herring, "It originated in the Texas area at least 25 years ago. It's definitely a Southern thing: Texas, Louisiana, Florida, and North Carolina, mostly." He adds almost apologetically, "But we sell to Pennsylvania too."
Herring says he's unsure of what effect Sheen's recent touting of Tiger's Blood refreshments online and on rooftops will have on his own firm's Tiger's Blood sales, which amounted to some 5,000 gallons last year, but he says the recently unemployed actor has already become a bit of a shave-ice industry punch line.
"If you want to make a 'Charlie Sheen,' you just need a cup of shave-ice, pour the Tiger's Blood over it," says Herring, pausing to chuckle. "Of course, instead of cocaine, we use citric acid to give it some bite. Or Pop Rocks is what we'd serve to the kids."
Related: Charlie Sheen and His Lawyers Are on a Rampage
10 Possible Charlie Sheen Replacements Who Might Get Us to Watch Two and a Half Men
Is Charlie Sheen Turning Into Saddam Hussein?
Four New Reveals From the Letter That Fired Charlie Sheen
The Argument You're Having With Yourself About Charlie Sheen
The 15 Funniest Charlie Sheen Clickables: Laugh While You Still Can!