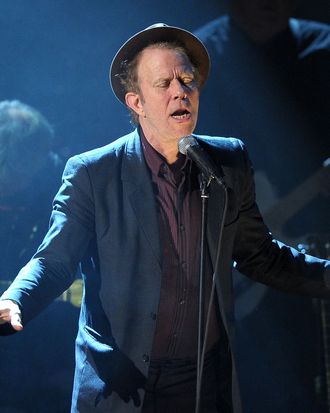 Photo: Michael Loccisano/2011 Getty Images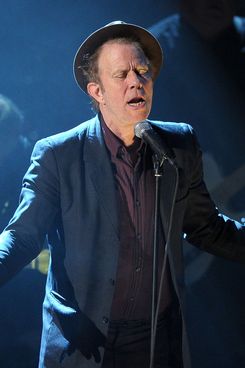 Last night, the Rock and Roll Hall of Fame inducted Alice Cooper, Neil Diamond, Dr. John, Darlene Love, Tom Waits, and Elektra Records founder Jac Holzman in a typically boozy, profanity-laced ceremony at the WaldorfAstoria that went two hours longer than scheduled. Vulture sat through the entire bloated, often entertaining mess (which airs on Fuse this Sunday at 9 p.m.), and came away, we think, rather enriched with knowledge. Here's what we learned:
The Boss is a possible secret Red Sox fan
While singing the 10,000th repetition of the chorus of "Sweet Caroline," Neil Diamond wandered the floor of the ballroom, looking for willing souls to sing into the mike with him. Bruce Springsteen surprisingly jumped at the chance to sing the song that the Red Sox play at every seventh-inning stretch. Coincidence? We think not.
When in doubt, blame Barbra Streisand
While inducting Neil Diamond, Paul Simon posited a theory for why the Rock Hall had waited twenty years past Diamond's point of eligibility (which would have been in 1991, 25 years after the release of "Cherry, Cherry" in 1966). "Six words. 'You Don't Bring Me Flowers Anymore,' " said Simon. "A really beautiful love song sung with one of the greatest voices of the twentieth century, Barbra Streisand. Unfortunately, if it's Barbra Streisand, I'm afraid it's not rock and roll. Not even close. Which is a tough break for Neil, because Barbra doesn't care. She's got Oscars and all that stuff. If he did it with Elton John, it's a rock classic. It could go on the Simon and Garfunkel Valentine's album." Later, Diamond addressed the issue in his speech. "I love you, too, even though you didn't vote for me," he said, he said, gesturing to everyone in the ballroom, whom he'd just berated for paying $3,000 a ticket. "I don't give a shit. I still would sing that song with Barbra. She's the greatest. And guess what? She doesn't give a shit, either."
Rob Zombie has very strict rules about what does and does not "rock."
When we talked to the awesomely bearded Zombie backstage (on hand to induct Alice Cooper and join the band onstage for a rousing rendition of "School's Out"), he talked about the olden days of rock stars. When he was younger, he said, "I had no concept of being arrested or paying for damages, so I'd get to some venue with a ton of security, and I'd tell the crowd, 'Fuck the security!!!' and there would be chaos, and kids storming to the front, and everyone would break everything because I encouraged it. After the show, the police would always be waiting for me and they'd want to arrest me and make me pay for everything." But, he said, "I've always weaseled my way out of getting arrested. That's the ultimate rock-star move. They didn't catch us." Also not rock: Lady Gaga ("She's pop music. She's not my thing. I don't listen to any album made past '78") or fine dining ("Hot restaurants are not rock-star food. 'Rock star' means eating pizza on the bus after the show").
Alice Cooper loved Julie Taymor's Spider-Man musical
As he told us backstage, "Oh man, I loved Spider-Man. I am glad I don't listen to reviews because I never would have experienced this if I did. I love the idea that the show came at me; it came straight out from the stage and flew over me. The music was so cool and the lead guy was not a Broadway singer, which I loved. He was a rock singer. It was a real rock-and-roll experience for me. I don't know what anybody doesn't like about it!" He also thinks the producers should stop stressing. "They shouldn't worry. Like I tell people I work with, 'If you get in this band, three things are going to happen: You're going to get paid, you're going to see the world and you're going to get stitches. And that's just part of it.' "
Alice Cooper prefers some sharp objects to others
His manager told us that the rock star is afraid of needles and therefore doesn't have a single tattoo on his body. He is, however, okay with swords, one of which produced his favorite scar. "It happened because I pulled my sword towards the floor and missed the floor," he told us backstage. "Instead I put it straight through my leg. I pulled the sword out and was like, 'Yeahhhh!'"
Old rock stars like to make fun of themselves
After accepting their induction, the entire Alice Cooper band (who, of course, brought a snake), pretended to shuffle off the stage in the wrong direction. Doubling back, Alice Cooper joked to the crowd, "There's always that Spinal Tap moment."
We need to shop where Dr. John shops
Asked backstage where he got his shoes, Dr. John replied, "At the pimp store."
Elton John is a saint, but a bad friend
As Elton John inducted Leon Russell, he told the story of how Russell had been his idol and had given him a spot on his tour when he was just starting out in the early seventies. The next time he called him? 2009. Bad friend! John had introduced his partner, David Furnish, who is fifteen years younger than him, to Russell's music, which Furnish had downloaded to his iPod. Then one day in 2009, while shaving in Africa (these are crucial details), John borrowed Furnish's iPod and put on Leon Russell. "And I started to shave and I started to sob," said John. "That music took me back to one of the greatest times of my life." He found Russell's number and rang him up. He was still playing and still touring. They chatted for about five minutes, and when they hung up, John realized he wanted to make a record with Russell, so he called up T. Bone Burnett, whom he'd never met, and asked him if he'd produce it, which he said he would, and then called Russell back. "I said, 'Listen, you haven't heard from me in 38 years and you get two phone calls in 40 minutes. Would you like to do a record?'" said John.
What followed was what John describes as "one of the greatest years of my life, both musically and personally." He got to know the idol he never knew, and he got to watch Russell shake off the oppression of being a forgotten great talent. "He was frail when he came into the studio," said John. "He had a five-and-a-half-hour brain operation. But he still came to the studio every day and played his part and sang his part until he got stronger. And suddenly, with the love from everyone in the studio and all the other peers who came to play tribute to him, he became strong. He came to remember things that he had forgotten. I think he was so tuned out because he had been kind of forgotten. And I was incensed that someone who could write all those great songs like 'Superstar,' 'This Masquerade,' 'Delta Lady,' and 'Song for You' could be forgotten." In Russell's short speech, the only person he thanked was John. "Elton picked me up from a ditch on the side of the highway of life and he treated me like a king. All I can say is bless your heart, and hallelujah."
Tom Waits is indescribable, but basically just like Edward Cullen
Elton John described Waits thusly: "If Jackson Pollock could sing, he would be Tom Waits." But we prefer Neil Young's version, from his speech inducting Waits:
"I don't have a TelePrompTer. I don't have any notes. I don't have any real … thoughts. I'm kind of blank. But I will say that this next man is undescribable and I'm here to describe him, or I'm going to try to describe what he does and why he's here. I can't tell you much about his life, because I don't really think that matters in the scope of things. This man is a great … he's sort of a singer-actor-magician-spirit-guide-changeling kind of performer. And I've seen him standing in the middle of dust [indecipherable] and I thought I saw little sparkle things coming out from him, and I looked down while he was singing and I said, "This man is performing and I'm seeing maybe three or four of him up there, and they all seem to be waiting for the other ones to finish so that they can come in." And one of them was whistling at me and one of them was singing in Tom's kind of voice, and then the Eagles covered it."
Tom Waits's mom would have done anything for him
As he said during his performance, "This is just like the piano my mom got me. She couldn't afford it, but she threw a brick through a window and got that piano. She only got seven years for it. She was a good mom, from jail."
Tom Waits should write everyone's acceptance speech for every awards show.
We couldn't understand everything he said with that gravelly voice of his, but enjoy!
I just want to know if there's a key-chain version that I can keep with me just in case I hear someone say, "Pete, take the cuffs off. I think he's a Hall of Famer." Thank you for the kind words, Neil. I'm honored to be honored. And, gee, I don't know where to begin. Songs, uh, are really just interesting things to be doing with the air. I love working with tunes. I love music, but we really want music to love us. Neil was saying the other night, he said, "When there's a song approaching it's kind of like there's an animal in the room, and you don't want it to run off." You know, how did it get in?
I was, uh, fifteen and I snuck in to see Lightnin' Hopkins. I put white-out in my hair and I drew on a mustache and I put on an overcoat and I stood there and I said, "Ticket for one." Amazing show. Every time he opened his mouth, that orchestra of gold teeth was just devastating. And then I saw him leave the show and he walked through a door and slammed the door behind him. And on the door, it said, I swear to God, "KEEP OUT. THIS ROOM IS FOR ENTERTAINERS ONLY." And I knew at that moment that I had to get into show business as soon as possible. So, uh, that was a real big one for me. And I've had the pleasure and the privilege of playing with a lot of great musicians over the years. Some of you are here and some of you are not here. Some of us are on the wrong side of the dirt, as they say. But any day on this side of the dirt is a good day, for me and for all of us.
Let's see, what else? They told me I should talk for quite a while, but I don't intend to. I fully do not intend to. I'd like to thank my family. They know me and they love me anyway. My wife and her incandescent light that has guided me and kept me alive and breathing and sparkling. And my kids who, well, they taught me everything I know. Or maybe they taught me everything they know. I don't know. They taught me a lot.
Okay, I did the bit about the door and the club. Um, the first time I went onstage, my face felt like it was made of plaster and if I smiled, it would crack off, and I thought, "This is such an interesting [Christian?] experience" and somehow wanted more of it. They say I have no hits and I'm difficult to work with, and they say that like it's a bad thing. [crowd cheers] The only thing I really can compare this to is I was given the key to the city of El Paso several months ago. It was a really kind offer. They told me there's only one key to the city, but I found out later there were a whole lot of them, and they fit nothing. So, I'm just hoping there are some fringe benefits that go along with this baby. Thank you very much. This has been very encouraging.