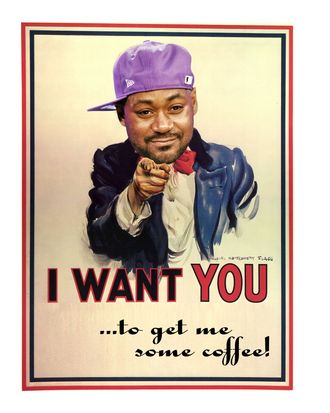 Photo: Mary-Louise Price; Photos: Astrid Stawiarz/Getty Images (Ghostface), U.S. Dept. of Defense, Painted by J.M Flagg/Staff or Contracted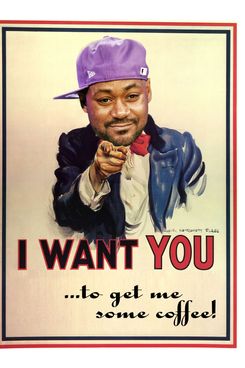 Ghostface Killah is hiring! Just yesterday, he tweeted "Peace….I'm looking for INTERNS to be apart of my upcoming Projects. Open Positions: Marketing/Social networking, Script Writers, Promotion … Photographers, and Web Designers. Forward interest to ae.theodoreunit@
gmail.com."
Working for Ghostface would, of course, be a great opportunity for any fresh-faced college graduate, and not just because you'd probably spend a lot of time with Cappadona: Ghost is an exceptional MC, but also a multifaceted, culturally engaged entertainer, and would enrich any young person's life. Seeing as Vulture can't apply — not because we're currently employed; we'd totally quit this job to work for Ghostface, but the position is presumably unpaid, and mama's got cat-food payment-plan installments to make — we now offer some unsolicited advice for the lucky boy or girl who does end up snagging the position. Print this out, laminate it, carry it in your pocket.
1. Know Your Iron Man
Ghostface's primary alias is Tony Stark, a.k.a. Iron Man, but he willingly admits he's not a huge fan of the comic book. (If we recall correctly, the association began when Ghost was riffing off an Iron Man T-shirt he once owned.) Point being, you might be called upon to check Iron Man details that Ghost is referencing in his lyrics, kind of like the Star Wars continuity cop. The more you happen to know off the top of your head, the smoother the process will be.
2. Pay Attention to the Little Things
On the intro to "Biscuits," Ghostface takes some time out to rant at an off-scene peon for not bringing him the right drink. "Yo, who the fuck brought me this chocolate shit, man? I said a banana nutrament, man. Ya'll heard what the fuck I said … I wrote it on the fuckin' paper, man. Ya'll motherfuckers always fucking around and forgettin' something and shit. Smart dumb niggas and shit." When Ghost hands you a piece of paper with specific instructions as to the beverage he wants, make sure to read it. No chocolate shit, man.
3. Be Handy With the Stainless Steel Knife
Ghost is a real foodie. Just check out some of these lyrics: "turkey, Italian sausage, chopped-up kielbasa / doing hits from home like an elite mobster / love my onions diced up real little." ("Black Tequila"); "Hit Poughkeepsie crispy chicken verbs throw up a stone richie" ("Nutmeg"); "Ayo, this rappin's like ziti" ("Apollo Kids"). That means it can't hurt to get your chiffonade chops real nice.
4. Stay in Peak Physical Condition
If Ghostface's "Run" is the perfectly accurate reflection of his life that we've always taken it to be, you will sometimes, while in the line of duty — like, say, if you guys are selling drugs in the school zone, or if you're getting chased with no shoes on, or if you ain't do shit — have to, at a moment's notice, run from the police. Do what you must: hop fences, jump over benches, etc. Prepare for this aspect of the job with light jogging.
5. Videography interns! Make Videos Like This:
Wow, awesome video.
Okay: any additional suggestions for future employees of Stark Industries?