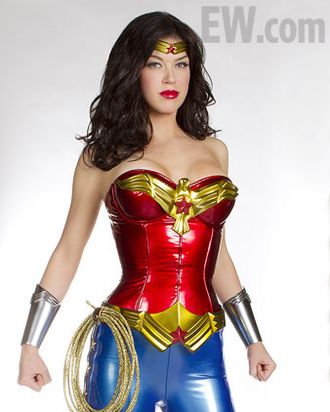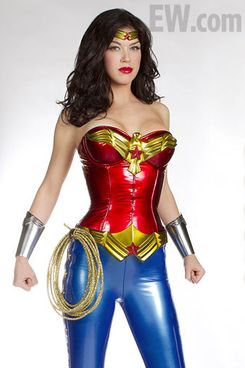 Adrianne Palicki's costume for the NBC remake of Wonder Woman has been revealed, and everybody's got an opinion. On the plus side, it's kind of nice to see a shiny, colorful outfit after so many "gritty" superhero movies have tried to adapt comic book costumes in a more realistic way. On the negative side … well, don't get us started. (Because we would start with Palicki's expression, which we find utterly confusing.) In fact, so many people have seen the costume today and asked, "What were they thinking?" that we decided to take that rhetorical question and find an answer for it. Here, then, are four items we believe were definitely on the inspiration wall for Wonder Woman's costume designer. Feel free to contribute your own!
1) Raja's PSA from the most recent episode of RuPaul's Drag Race
2) The plastic-cup dress from Project Runway
3) The Elle cover where Drew Barrymore's armpits have been airbrushed away
4) This picture of Real Housewives of New York City star Kelly Bensimon
Take another look at the real thing, and let us know if you have any additional brainstorms.