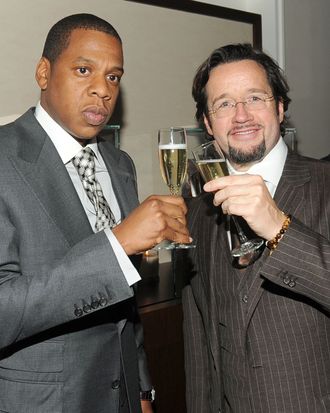 On Tuesday, Vulture linked to The Atlantic article Jay-Z's Great Champagne Robbery, which alleged that Hova was secretly profiting off his deal with secretly crappy Champagne Armand de Brignac. Later that day, the article — an excerpt from Zack O'Malley Greenburg's upcoming book on Jay — was taken down from The Atlantic's site. Drama!
FishbowlNY investigated, and got this from Penguin, Greenburg's publisher: "[We heard] only that the piece was pulled for unspecified editorial reasons. This was an authorized, negotiated arrangement for the publication of the excerpt. We were told after the fact that the excerpt had been removed. We haven't heard any more." The Atlantic also responded to Fishbowl:
On Tuesday, we took down from our website an adaptation of Empire State of Mind, which had briefly (and in error) been posted before it went through the TheAtlantic.com's routine editing process. Since then, in the course of preparing the piece for publication, we were unable to come to terms for re-posting the article with the publisher of the book. Consequently, we will not be re-posting the article. At no point were we contacted by (or asked to take down the article by) any outside entities.
There are a few ways to look at this. First, you can take The Atlantic at its word and accept that, despite appearances to the contrary, taking down the excerpt really did have nothing to do with ruffling feathers. Second, you can let your conspiratorial mind wander, and assume that Vatican assassins deployed by Jay-Z pulled out some dastardly trickery and convinced The Atlantic to cover up the ugly truth. With the latter option, there is an additional division: Either you shake a fist at Jay's deceitful machinations — or you marvel at his all-encompassing power. Vulture's going with the second one. A glass of delicious Armand de Brignac to you, good sir!
Update on Pulled Jay-Z Article in The Atlantic [FishbowlNY/Mediabistro]