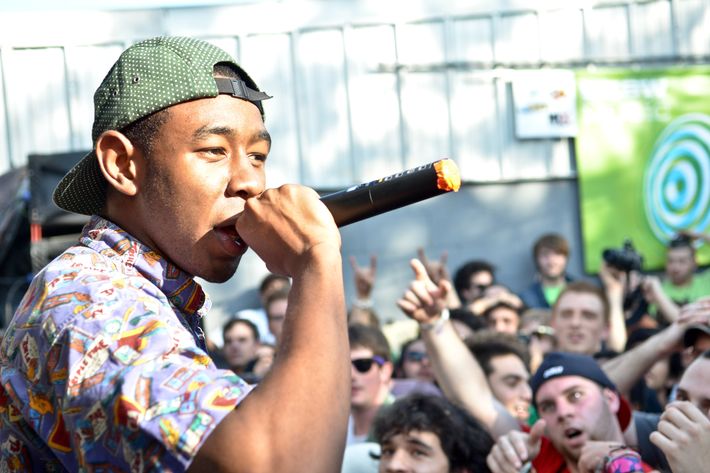 The level of energy surrounding Odd Future at SXSW last week was incredibly high. On Friday afternoon, adjacent a skate ramp in East Austin, they brought just the right amount of chaos: an unmanageable entry line, fans jumping fences and climbing trees, rapper Hodgy Beats staggering around on the stage's roof and plummeting into the audience, a couple dozen kids shoving through the gate and barreling into the crowd. A guy named Kyle may have had his nose broken, but didn't seem to mind. Group leader Tyler, the Creator perched atop a speaker stack like a gargoyle, rapping in his raspy grumble — the sound of an energetic teenager challenging a sour old sack of bile — then looked down and announced, "I could die right now!" beaming like a happy child. The group's tracks sound terrific live, full of grim flabby bass and wild confidence. The rappers move around the stage inhumanly quickly, like someone has them on fast-forward. A thirtysomething guy in back ventured that it was like we were seeing Nirvana in 1991. I do not believe that was true. I'm not even sure what it would mean for that to be true. But it's amazing how many people clearly want it to be true — crave the general feeling of its being true — and are ready to invest that enthusiasm into Odd Future specifically. Which is easier when there are so many people in the crowd with underage Xs markered on their hands, yelling along with the group: "KILL PEOPLE, BURN SHIT, FUCK SCHOOL."
Odd Future Wolf Gang Kill Them All — if you've missed coverage of them that now extends as far as the Poetry Foundation — is a young hip-hop crew from Los Angeles: rappers, producers, skate kids, visual artists, Internet imps, and in the words of seemingly everyone who meets them, "sweet kids." They're staggeringly creative, gleefully antisocial, pranksterish, needling, wounded, self-lacerating, and two-steps-ahead-of-you smart. (The kind of smart that can make teenagers resentful and nihilistic, because they imagine the world is stupid.) Tyler has a mischievous grin, wears knee-high gym socks, and refers to himself on one track as "Mr. I-Don't-Give-A-Fuck / Who cries about his daddy on a blog because his music sucks." He enjoys acting like a monster, ghoul, Nazi, serial killer, school shooter, or rapist, all in that trollish, eye-rolling tone that keeps most people from wanting to spend much time hanging around frustrated teenagers or the more anarchic corners of the Internet — the tone of pent-up, clever kids whose thick skin lets them (a) do or say whatever they want to amuse themselves, (b) giggle at everyone "dumb" or "boring" enough to care, and (c) remain close-knit and caring-free enough that they can't much be hurt or mocked themselves. This description is neither a compliment (the music has definite moral and aesthetic knots in it) nor a criticism (it's also vital, full of intense emotion, and musically keen).
I mention this mostly because it's absolutely no wonder Odd Future gets so much press: They have exactly the same emotional tenor that countless grown-up music-nerd males had in their goony, alienated teen years, when someone slipped them whatever eye-opening rap, cathartic metal, or angsty rock album turned them into music nerds in the first place. (Plenty of music-nerd women, too.) The music industry and the Internet both tend to prize this kind of energy. They spot its vitality quickly and easily. It's practically a foundational myth for both: smart-ass teenage rebels so clever they can bend a dim, dull world to their will.
On the way out of Friday's show, three teenagers — two girls, one boy — raved about Tyler: "He just says so much crazy shit!" "Why does his voice sound like that?" "Ummm, because he's awesome and I love him?"
In a completely unrelated development, KVUE's local news ran a story that afternoon about a series of "juvenile arsons" across the week, which included the following sentence: "The homeowner's child was setting his homework on fire and throwing it out the door."
The following night, at a showcase hosted by Billboard — a magazine that's already put Odd Future on its cover — the group berated the crowd and soundman (to much applause) and then stormed off before they'd even gotten through three tracks (to not so much applause). Because of course people here wanted to be within the circle of Odd Future's winning disdain for the world, not actually assaulted or inconvenienced by it.