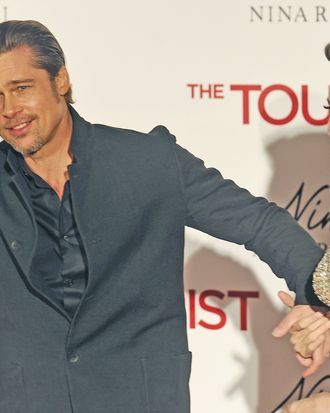 Photo: PIERRE-PHILIPPE MARCOU/AFP/Getty Images/2010 AFP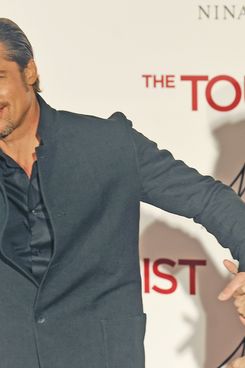 World War Z, Brad Pitt's movie about a global undead apocalypse, may be dying (or is it re-dying?) unless Paramount can find a co-financier. The film currently has a price tag of more than $125 million, and the studio is fervently searching for a partner to share the risk. Our sources tell us that if they can't find one, it's likely that Paramount will pull the plug on the adaptation of the Max Brooks book, which was to be directed by Quantum of Solace's Marc Forster and star Pitt, who would also produce.
Insiders say an eleventh-hour effort is being made to court frequent Paramount co-financier David Ellison (Mission: Impossible IV, Top Gun II) as well as another, unspecified investor. Paramount Film Group president Adam Goodman insists to Vulture, "We're really committed to making a big, kick-ass giant movie with Marc Forster and Brad Pitt." Pressed on whether the studio would move forward without a financial partner, Goodman declined to elaborate, saying it was too early to tell. Absent such a financial partner, it's highly unlikely that Paramount would go forward; in today's economic climate, few studios are shouldering such budgets alone. Just two weeks ago, Universal shut down Guillermo del Toro's similarly costly and graphic adaptation of the H.P Lovecraft novel At the Mountains of Madness. But, to be fair, Del Toro was intent on an R rating, while Goodman says that Paramount signed a deal with Forster assuring them of a PG-13 cut.