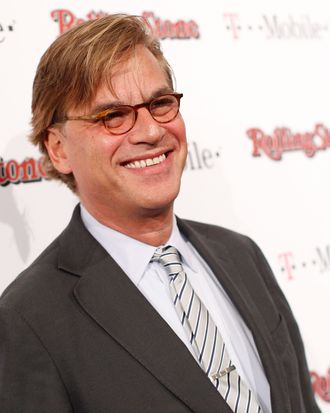 Photo: Christopher Polk/Getty Images for Rolling Stone/2011 Getty Images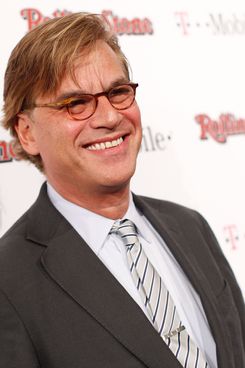 Aaron Sorkin's upcoming HBO pilot, currently titled More As the Story Develops, centers on a pursuit not necessarily thought of as noble but that is approached as such here (cable-news broadcast), a passionate leader (its anchor), and the talented, idealistic staffers around him. In other words, we could have just said "It's an Aaron Sorkin pilot." The show is still in its extremely nascent phases, with only Jeff Daniels nailed down as the lead character, anchor Will McCallister. (Marisa Tomei, Alison Pill, and Olivia Munn are also in talks.) Vulture has obtained the script, and even this early in the game, it's easy to suss out MAtSD's Sorkin DNA by flipping through it.

The Plot
The pilot all takes place within one day — a day of crisis, naturally, when all of a sudden Will's support team has proven disloyal and unworthy and it's time for a new guard to join to help him out! It's a new guard with familiar faces from Will's past; there have been complicated entanglements, but there's also a common goal to do good things.
60 percent Studio 60: A show in post-crisis mode, with returning righteous ex-employees, network bureaucracies, and the honorable desire to bring a sense of ethics and passion to television.
20 percent Sports Night: Plenty of control-room jargon and an intense love of breaking news.
20 percent West Wing: Recall that Mandy reentered Josh's life in the WW pilot, just in time to help the Bartlett administration put out a few fires of its own.
The Sexual Tension
The familiar face that returns to cable network UBS to save Will's show — and maybe, just maybe, a little piece of his withering soul? — is Mackenzie (Tomei, possibly), Will's ex-flame and news-producer extraordinaire. She broke his heart years ago, and he's none too happy to see her. There are also the stirrings of a new romance between two of the younger staffers.
55 percent Studio 60: There's a lot of Matt/Harriet in Will/Mackenzie — the unwanted reunion, the lingering animosity, the Bad Thing That Happened, But We Can't Talk About — but it's nowhere near as laborious here, and even just as printed text, the sexual energy between the two has more potency than the entire run of Studio 60.
35 percent Sports Night: The budding romance has Natalie and Jeremy written all over it, and Will and Mackenzie's arguments sound like Casey and Dana when those two fought.
10 percent West Wing: Exes and oh-nos, if you will. It seemed like members of the Bartlett administration were always bumping into people they used to be with: Josh and Amy, Sam and Mallory (and Laurie, and his ex-fiancée Lisa), Toby and Andi, CJ and Danny. If you fall in love in Sorkinland, that person will haunt you forever.
The Politics
Will becomes a target for death threats and serious hate mail after he makes a remark deemed unpatriotic. He's rattled, but then he gives a stirring, emotional monologue that convinces the audience that he's right through the use of statistics and compelling rhetoric.
70 percent West Wing: On the WW pilot, Josh finds himself in hot water after insulting part of the Christian Right on a talk show.
25 percent Sports Night: In "The Apology," Dan has to give a non-apology for having said something controversial — that the war on drugs is a failure — but true.
5 percent The American President: President Shepherd catches some guff for suggesting that "Americans can no longer afford to pretend that they live in a great society."
The Character Chemistry
The major departure here, in terms of Sorkinology, is that there's not a clear BFF duo (Jed/Leo, Dan/Casey, Matt/Danny) or an idolized father figure everyone reveres and admires (no Isaac, no Bartlett, no Wes). But there is a lousy boyfriend, a preternaturally talented and well-informed male staffer, and the Girl Who Holds Her Own With the Guys.
70 percent Sports Night: The bond that instantly develops between underling-with-promise Maggie (potentially Alison Pill) and Mackenzie has Natalie and Dana written all over it.
20 percent Studio 60: It's the only one of the three Sorkin series where some of the core characters don't like their immediate co-workers — like Matt apparently hating most of his inherited writing staff … the hacks!
10 percent West Wing: Will's relationship with his new bodyguard — chatty, casual as a cover for how dire their situation is — has a Jed/Charlie vibe.
Other Things We've Seen Before
- Will can't remember his underlings' names, much like how on West Wing Bartlett couldn't remember his staffers' names at the beginning of his campaign and Will Bailey couldn't remember his interns' names, or how on Sports Night Casey didn't know any members of the crew.
- The pacing of the show and the righteousness of its characters — he just has too much integrity — are canonical Sorkin.