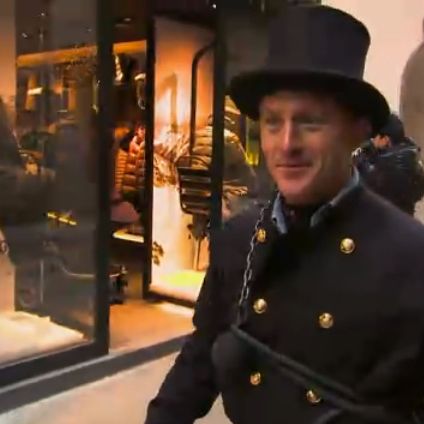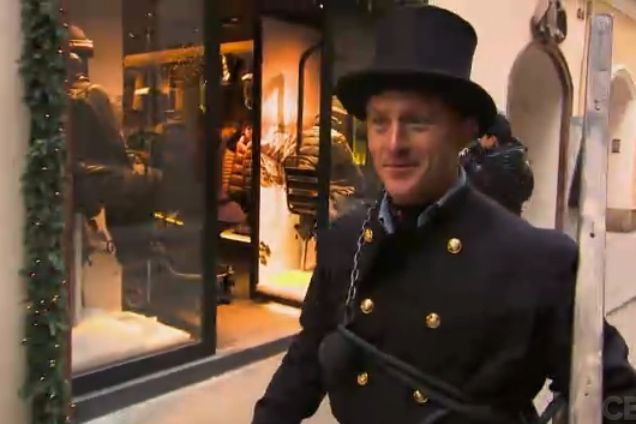 Last night's Amazing Race immediately started with a new lesson for our future stint on the race: Be careful what you say in your pre-leg reflections. Gary and Mallory and the Cowboys did it right. The father and daughter remembered getting eliminated in leg eight during their season, while the cowboys showed off their ability to whistle over a cab, much like a dog or horse, while making the incredible pun "we're done playing cowboys and Indians." However, Kisha and Jen came across as being done with the race and each other, pointing out that being sisters, they can't escape each other. Not the best way to get your morale up! So, what other lessons did we learn last night?
Embrace Product Placement to the Fullest, But Don't Get Carried Away
The teams left Varanasi in the middle of the night to embark on a day-and-night-long journey to Vienna, a slight cultural and weather change from India. In Austria, they were greeted by 2012 Ford Product Placements Focuses, which apparently allow you to play your own videos for all to see, as a video clue from Phil started with the car. The product placement was all about the backup camera (the teams used it to read the name of their next destination), but we think the video aspect is a far better feature. Think of the creepy fun ways you could torture enlighten the lives of your family! We were also distracted by the fact that the cars appeared to have Michigan plates in the middle of Austria. Gary and Mallory, meanwhile, got so distracted by Phil's mention of the car's navigation system that they spent a very long time poking around the screen looking for the next clue.
Even If the Food Is Good, the Eating Detour Will Be Impossible
Mallory was the most excited to head to the next destination, the castle Sclhoss Schallaburg, but their time there was short-lived, as a girl in a princess costume quickly sent the teams on their way to the national library in Vienna. We are so sad that we did not visit it when we were in Vienna last year, because the inside looked exactly like the library from Beauty and the Beast, a fact that not one Racer noticed (shame on you, Mallory). The librarian handed out the Detour: Carry a couch from Freud's old home to the school he taught at a mile away, or eat two plates of schnitzel and a piece of Sacher torte while riding the Ferris wheel from The Third Man in twelve minutes. Our first thought was that that food challenge was not a challenge at all, but a gift, as schnitzel and cake are surely the tastiest eating challenge to ever appear on this show. However, not one team that tried it could complete it — not even Gary and Mallory or Zev and Justin, and they all had to switch to the other challenge (but not before Mallory offered to throw up and try eating again), which everyone struggled with pretty equally.
Be Willing to Dress in Costume More Than Once
The teams headed next to Salzburg, which at a three-hour drive is not exactly as nearby as the editing made it seem. Along the way, Vyxsin freaked out at Kent's "psycho behavior" even though he was being fairly normally whiny, and she was the one who kept bugging out. Perhaps that jump in the Ganges did something? Meanwhile, Salzburg held a costumed Road Block: Put on a chimney-sweep costume and sweep some chimneys. While nothing will ever top the kangaroo costumes from earlier this season, we must admit that Big Easy and Cord looked rather amazing in their chimney-sweep costumes (in fact, even Gary looked dapper. Perhaps he should save that outfit for Mallory's wedding?). However, Cord definitely won the costume contest, especially since he has the best theme music.
If There's a Fan-Loved Team in Last Place, It Just Might Be a Non-Elimination Leg
The leg's pit stop was at the Villa Trapp, awesomely where the real Von Trapp family lived. Unawesomely, teams were not forced to sing a tune from The Sound of Music before they could check in. Zev and Justin checked in first, much to their own surprise, and won two brightly colored Ford Product Placements. Gary and Mallory's little mistakes along the leg added up to last place, but luckily for them, the non-elimination leg is not a thing of the past, and they get to continue racing (with a Speed Bump) next week. While we're happy about this, we do wonder if the producers did bring it back last minute to keep the well-liked team in the race. After all, we hadn't seen a straight non-elimination yet this season — we thought the non-pit-stop was its replacement.
Next week, expect a different voice-over person (where is Phil?!) in Lichtenstein, where the teams will ride bikes and eat fondue, challenges we can definitely get behind!