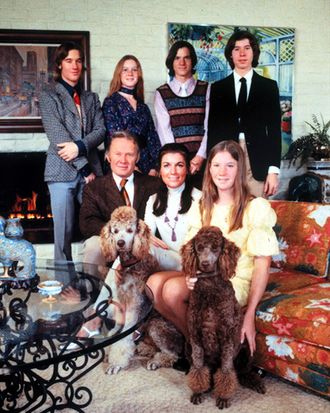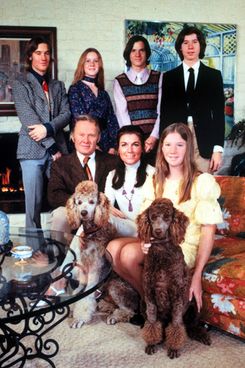 Next week, I'll be reviewing Cinema Verite, HBO's new film about the making of An American Family — the 1973 documentary that became the original reality TV. But before you even think about watching the film (spoiler: It's good), check out these clips from the original series. The documentary begins with an amazingly condescending intro by Craig Gilbert (the producer played by James Gandolfini in the HBO version) and was intended to be a Margaret Mead–ish examination of the Louds, a wealthy family living in Santa Barbara. Instead, it set off a bomb in the culture, lending the world an opportunity to gawk at and moralize about a family in crisis. Teen son Lance Loud became the first openly gay person on television. Pat and Bill's divorce launched a thousand op-eds. And years before Paris Hilton or Justin Bieber, the family became celebrities, famous for being themselves.
Watching these clips, though, all I could think about was how slow they feel compared to any modern reality show, almost all of which are semi-scripted or cut with game-show elements. Conversations meander, drag. Goofy teens chop tomatoes in a kitchen. The noise at the fiesta is so loud we can hardly hear Pat's cutting remarks about her husband. There are no confessionals; no squiggly captions — none of the conventions spearheaded years later by The Real World. And yet the show won 10 million viewers and the cover of Newsweek.
A lot of it is still riveting, including Pat's long monologue in episode eight, in which she chain-smokes her way through a 25-minute conversation with her brother and sister-in-law, thinking her way into a divorce from her cheating husband.
And for New Yorkers, it's particularly worth checking out the sequence when a nervous Pat, wearing huge Jackie O glasses, visits Lance at the Chelsea Hotel. In his slinky silk shirt, Pat's son brags about bombs going off in the street and offers to take his mom to La Mama to see stars she's never heard of. "New York!" he announces to his apprehensive mother, escorting her to the window. "Just think of it. 70 million keepers of the flame."
Here's that clip:
And here's Craig Gilbert's intro: