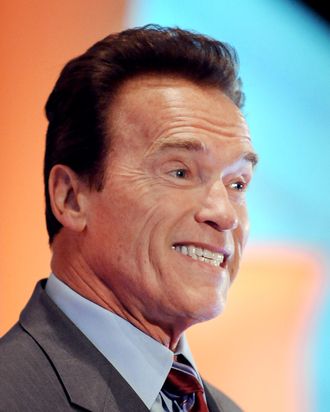 Photo: ROBYN BECK/AFP Images/Getty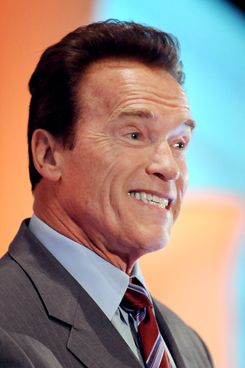 On Wednesday it was reported that Arnold Schwarzenegger was shopping around further Terminator sequels. But Vulture has learned that reprising that role won't be his next project: Instead, for his first post-gubernatorial picture, he has picked Cry Macho, a drama to be directed by The Lincoln Lawyer's Brad Furman and produced by Al Ruddy, the producer of Oscar-winning movies like Million Dollar Baby and The Godfather. The plan, we're told, is to shoot as early as this summer, right after funds are raised at the Cannes Film Festival.
The movie is based on the 1975 novel by the late N. Richard Nash (a playwright famous for The Rainmaker, he also wrote the Cry Macho screenplay before he died in 2000). This won't be a throwback to Arnold's heyday of silly action flicks: Schwarzenegger is said to want to utilize some acting muscles for his return to the big screen. He will play a damaged-goods horse trainer who's just been ignominiously put out to pasture by his feckless boss. In exchange for some retirement money, the broken — and broke — horseman agrees to kidnap the boss's 11-year-old son from his rich Mexican ex-wife. Things take an unexpected turn, however, when the ex-wife is all too glad to be rid of her juvenile delinquent.
Ruddy had actually had Schwarzenegger attached to the script almost a decade ago, but politics interrupted that plan. It sat on a shelf for a while, at one point drawing in Clint Eastwood as the horseman, but that, too, faltered. Now Vulture hears that Ruddy is partnering with Bill Block, the District 9 producer and financier, and they will head to Cannes to seek financing.