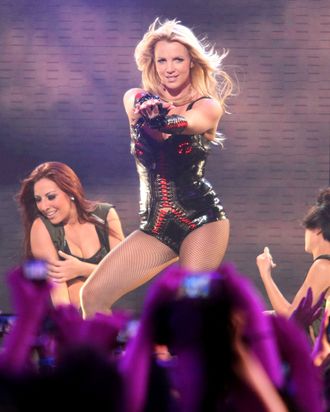 Photo: Max Morse/2011 Getty Images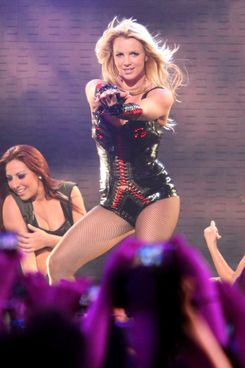 Heather Bright, a veteran pop songwriter who contributed to Britney Spears's Femme Fatale, wrote a blog post defending Spears from those criticizing her for not having any co-writing credits on the new album, and — perhaps accidentally! — made an interesting claim. Take it away, Heather:
I would just like to address one thing! The media is talking trash about how Britney didn't write any of the songs on her album … HELLO! Wake up everybody! NONE OF THESE ARTISTS WRITE THEIR OWN SONGS!!!!!! (there are a few exceptions … lady gaga, will.i.am/BEP, chris brown is starting to write a lot of his own stuff … ummmm … and now I'm running out of artists). Anyway … here's my thing … and I feel VERY passionate about this issue. Britney could have come to me, like all these other A-list artists, and said …
"Hey, you wanna be on my album? I'm gonna need writing credit for that song AND part of your publishing even though I didn't write anything! And then I'm gonna go on tour and gross $150 million in ticket sales and not give you any of that, even though I'm performing your song!"
I could rattle off a laundry list of artists who I've had that conversation with! And I'm on the other end like … "Oh okay … so you wanna rape me, but just with the tip?!" *Prince side eye* Britney's one of the few artists I've worked with who didn't try to take something that wasn't hers. In my experience, from a business standpoint, her entire team is nothing less than a bonafide class act!
ONTD also points to a recent interview with Bright where Justin Bieber is specifically called out for getting a songwriting credit on the Bright-penned "Somebody to Love." (Bright: "Umm … How did he get a writing credit on it? … That's an interesting question. I don't know. (laughs)")
Of course, Bright's not in every studio session; she can't say for sure that Katy Perry didn't come up with "do you ever feel / like a plastic bag." But it's also not far-fetched to imagine domineering pop stars demanding credit — as a boost both to their finances and their reputation — on tracks they had minimal input on. So is Heather Bright the Jose Canseco of the pop-songwriting world?! Is Justin Bieber a pop criminal?!! Is something something worse than the other two things something something?!!! At the very least, it's yet one more reason to respect Britney: She's no thief.
Songwriter Says Britney Is a "Class Act" For Not Stealing Credits [ONTD]
Kleptoncé Is Not The Only One [ONTD]