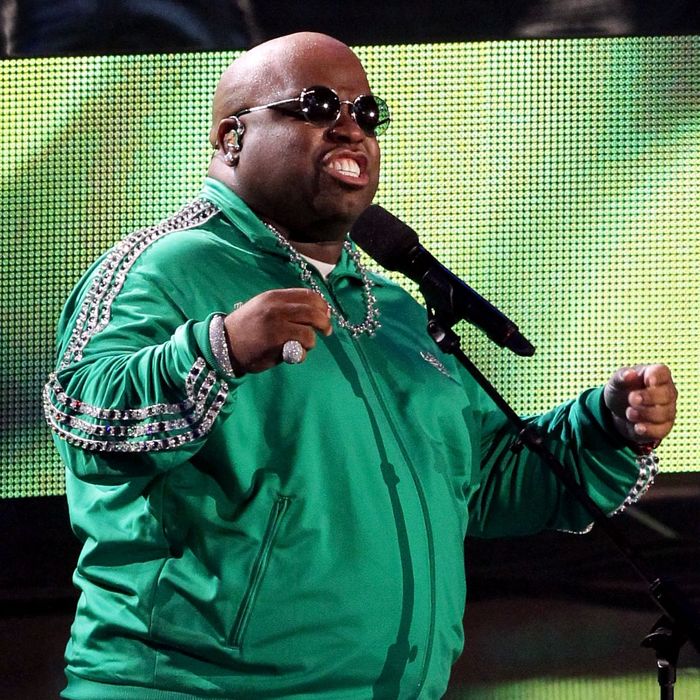 Photo: Noel Vasquez/2011 Getty Images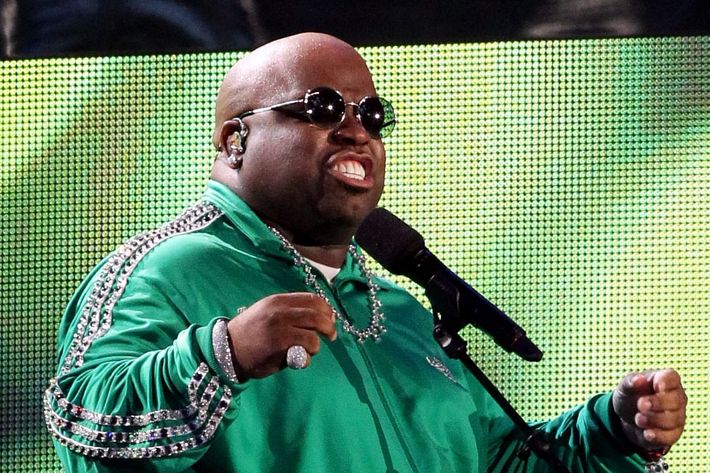 In 1995, Goodie Mob — a four-man hip-hop crew from Atlanta featuring a young Cee Lo Green, very much rapping — put out their debut, Soul Food, to great acclaim from a moderate-size but devoted fan base. Tuesday night, Cee Lo made his debut as a reality-TV show judge on the premiere of NBC's new singing competition, The Voice, an episode seen by over 12 million people. How the hell did he get from point A to point B?
Cee Lo now is best known for his two big hits "Crazy," with Danger Mouse as the duo Gnarls Barkley, and "Fuck You." Which is to say, he's best known as a singer, specifically of mid-tempo, slightly edgy radio R&B songs with really, really big hooks. In the Goodie Mob days, though, while he'd occasionally sing hooks, Cee Lo was absolutely an emcee first.
He had a deliberate, conversational style that could go both soft (from "Soul Food": "a heaping help of fried chicken, macaroni and cheese, and collared greens, / too big for my jeans") and hard (from "Fie Fie Delish": "Now get back, you hit, you get hit back / Click clack, boo yak, automatic attack, got gats"). Sometimes, he'd even rap like an enraged anti-government black nationalist! From "Fighting":
But the system taught us to keep that book closed/
See the reason why he gotta lie and deceive is so/
That we won't act accordingly/
To get the blessings we suppose to receive/
Yeah it's true, Uncle Sam wants you to be a devil too/
See, he's jealous because his skin is a curse but what's worse/
is if I put it in a verse y'all listen to some bullshit first/
We ain't natural born killers, we are a spiritual people/
God's chosen few
His inimitable squeak was around back then, too.
Goodie Mob — which, by the way, was part of Outkast's extended Dungeon Family crew, and is often credited with popularizing the phrase "dirty south" via their song of the same name — put out two more albums with Cee Lo, 1998's Still Standing and 1999's World Party, before he went solo. On both 2002's Cee-Lo Green and His Perfect Imperfections and 2004's Cee-Lo Green … Is the Soul Machine, Cee Lo moved his crooning front and center, to more critical acclaim (even if some grumbled that he was moving away from rapping). His fan support was still of the cult variety until a few years later, when he linked up with Danger Mouse (the two had known each other since their pre-mainstream-success-and-riches days, when DM's most noted collaboration was his and Jemini's Ghetto Pop Life) as Gnarls Barkley. They did "Crazy" in 2006, came back in 2008 with a few smaller singles — and then, last summer, Cee Lo finally hit solo radio-hit pay dirt with "Fuck You."
It's safe to say that without "Fuck You," Cee Lo wouldn't have landed the cushy NBC job, or the profile boost and overflowing treasure chest of gems with which it comes. And with his latter-day solo success, he was probably selected for The Voice panel to add some "edge" or "cred" or whatever other vaguely defined word you want to use to explain his appeal. (Meaning lots of people who are totally down to watch The Voice probably don't know, or care, who Cee Lo is, but a smaller group that would have never watched otherwise might tune in just for him.) But there he is, on network television. The chubby dude from Goodie Mob.