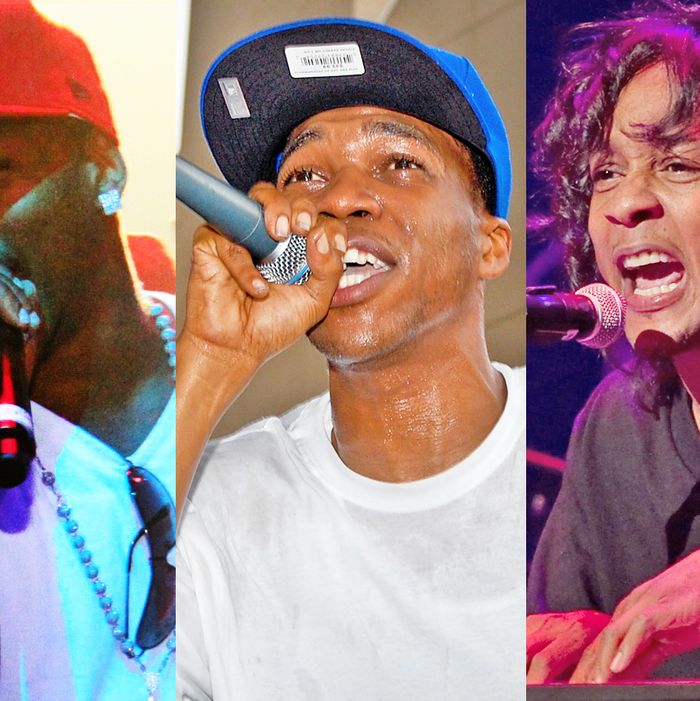 Photo: Johnny Nunez/WireImage, Brook Bobbins, Noel Vasquez/Getty Images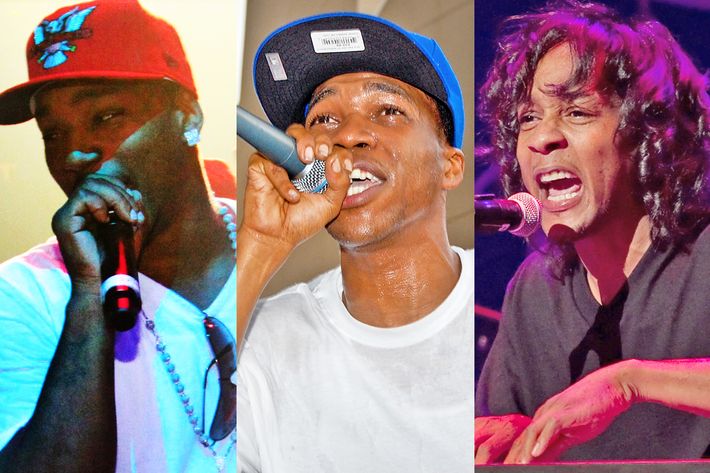 Compton veteran DJ Quik has been around long enough to talk about rap in a way you don't often hear; hip-hop didn't exist during his childhood, but Curtis Mayfield sure did. Today, at 41, Quik's interested in scoring films, the way people like Mayfield, Quincy Jones, and Isaac Hayes once did. On his new album, Book of David, he says he's "too mature for the job I've got" and "too young for the one I want." This is totally to the listener's benefit: The beats he's put together for this record are, in 2011, a refreshing change of pace. They excel at things — spaciousness, warmth, detail, polish, sequencing — that run a little bit counter to today's priorities. (Even our pop hits can sound quick and dirty, leave alone all the hip-hop that makes a strength out of moving fast and feeling grimy.) These tracks are bright and colorful, lovable, crispy hi-fi, and full of the bell-bottomed soft touch of the late seventies; there are disco-ball fantasias, some of the laciest synths around, and enough slick bass lines to make West Coast nostalgists feel right at home. Maybe that's "too mature," but it's ridiculously inviting to listen to.
DJ Quik's an inviting, chatty rapper, too — lately he sounds incredibly eager and open. He's open when he's being grown-man tender, wooing a lady with diamonds and sashimi, or teaming up with Detroit singer Dwele for a clear-eyed slow jam ("You and your son / Look like you and my son"). He's also open when he's being grown-man cranky and airing grievances, which happens a few times here. The first words on this record are an annoyed "I don't give a fuck about you, you, her, him … ," and if anyone in Quik's family was thinking about asking for a loan, these tracks will change their mind. On "Ghetto Rendezvous," he delivers a weirdly conversational, alarmingly venomous, and seriously thorough attack on his sister, her man, and even her kid. You'd assume this is the same sister who reportedly extorted him, and whom he was convicted of assaulting; he spent five months in jail for that. This venom is a shame for a lot of reasons, one incredibly small reason being that Book of David, like much of Quik's long discography, would sound perfect at a family cookout — it has a sunny, hospitable bump and talks like it's among friends.
Meanwhile, in New York, the rappers Cam'ron and Vado are obsessing over finances, to beats like slow-motion movie explosions — note the macroeconomics pun in the title of their new album, Gunz 'n' Butta. One track, "American Greed," manages to sound grimy and eighties Wall Street at the same time, with a chorus invoking swindlers like Bernie Madoff, Kirk Wright, and boy-band impresario Lou Pearlman. ("You get more dirty when your collar and shirt white.") Cam'ron's a longtime NYC favorite who might be a little past his prime; he still sounds happily ruthless, and still raps in a deliciously smug, snickering, begruding way, as if he has much better things to do but will, if you insist, stick around to drop some punch lines about terrible things he did with your girlfriend. His protégé, Vado, is hyper and hoarser; they trade verses well, and a few of the beats Araab Muzik supplies for this album — like the dubby, woozy "I Luv U" — feel like keepers, even if the album as a whole doesn't. (It feels a little bit like a victory lap for people who haven't actually won anything.)
It always feels glib and superficial to identify a rapper as a weed enthusiast, as if that trait were particularly meaningful. Curren$y, however, is a guy who (a) says his first reaction to the stuff was "I never want to not feel like this again," (b) thanks marijuana for buying his condo, (c) does not mind rhyming about days spent hanging around said condo, and (c) just released a very good EP as a free 4/20 gift. Covert Coup is a collaboration with the long-esteemed producer Alchemist, whose beats have a blunted, psychedelic grit you could just about curl up and take a nap in; matching them with Curren$y's mellow New Orleans drawl is an easy idea. Better still, Curren$y has a terrific sense of how to make a record hang together — it's one of the chief appeals of his two Pilot Talk releases from last year. Covert Coup is an EP, and it's built to smoke to: Just a solid ten-song block of underground head-nodding, uninterrupted by pop hooks, production shifts, or anything else that might break the spell. It's under 30 minutes long — a quick gust of rhymes and beats worth wallowing in, with a couple of terrific guest verses from New York's Prodigy and Gary, Indiana's Freddie Gibbs. Its looseness, darkness, and haze are as easy to sink into as the gleam and open air of Quik's tracks.