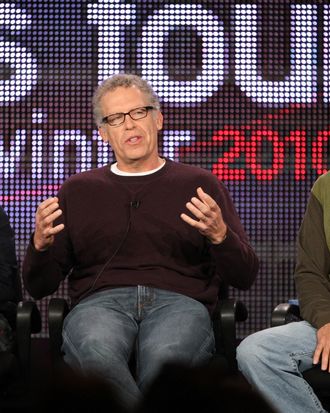 Photo: Frederick M. Brown/Getty Images/2010 Getty Images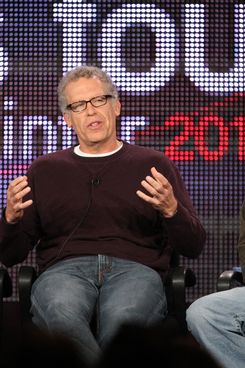 George R.R. Martin, beloved fantasy author of the newly adapted Game of Thrones, did not like the end of Lost, and he told The New Yorker all about it. And when Lost executive producer Damon Lindelof found out, he was none too pleased, firing back at the majestically bearded scribe with a playfully vicious stream of tweets.
In Laura Miller's "Just Write It!" about Martin's seeming inability to finish the final three books in the "Song of Ice and Fire" septet, Martin complains that his devoted weekly viewings of Lost didn't pay off. "We watched it every week trying to figure it out, and as it got deeper and deeper I kept saying, 'They better have something good in mind for the end. This end better pay off here.' And then I felt so cheated when we got to the conclusion." Later in the article, Martin frets about the pressure of delivering on fans' incredibly high expectations. "I want to give them something terrific," he says. "What if I fuck it up at the end? What if I do a Lost? Then they'll come after me with pitchforks and torches."
One person already had his pitchfork ready: Damon Lindelof! "George RR Martin is terrified of 'pulling a LOST' by ending Game of Thrones shittily. In related news, my therapist just hit the jackpot. … I take issue with the fact that he coined 'Pulling a LOST' as empirically 'fucking up the ending'," Lindelof wrote. He joked that Martin "got [himself] a feud, motherfucker," and then really let loose. "Winter IS coming, bitch," Lindelof said, referencing Martin's long-awaited The Winds of Winter, which currently has no release date but has been in the works for over a decade. "Not to mention, he agreed to say nice things if I sent him Mr. Friendly's beard, which I did. #OHSNAPSALVOTWO," he wrote. (Recall Mr. Friendly's luxurious facial hair.) Finally, in his closing shot, Lindelof went for the jugular: "I've just been informed George is working on his feud response. I'll have it in FIVE YEARS! #NOYOUDINT." Oh yes, he did.

Just Write It [NYer]
Damon Lindelof [Twitter]
George R.R. Martin talks about world-building, tinkering, and the ending of Lost [io9]