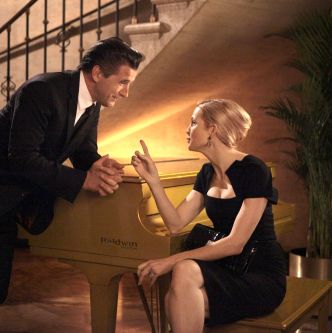 Photo: Giovanni Rufino/©2011 The CW Network, LLC. All Rights Reserved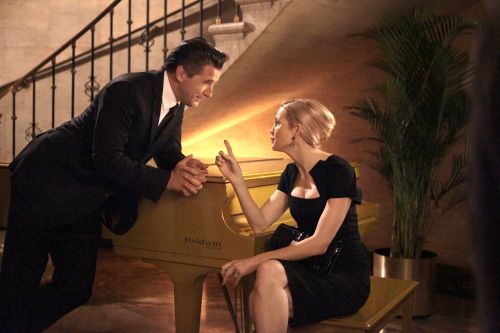 This week's return of the Greatest Show of Our Time once again established that Blair can only forgive Chuck when it's convenient, Vanessa looks more and more homeless by the episode, and Dan has already begun to stake out his next conquest (and member of the Rhodes family) for another bout of incest. When you weren't commenting on the sad state of Dair and Raina's new role as the official cleavage of the show, you took issue with an Intel Doris Day/Greta Garbo snafu and appreciated Cece and William's ability to hold their liquor.
Next week marks the arrival of Prince Louis and hopefully the finale of GG's pathetic attempt to make Dair happen. It's time to let that coupling rest in peace.
Without further ado, here is this week's recap of the recap, brought to you by laurenzee.

Realer Than Aunt Carol Agreeing to Bring Lily Pot Brownies in Jail
• Chuck: "I've learned some information that's making me reconsider my future. My future with Blair. However, my intel indicates that she's seeing someone else." The look on Dan's face is priceless. The reason they aren't showing him from the waist down is because he is peeing his pants. +25 —BLONDEPHOENIXRISING
• "With you, she was always caught up in schemes and takedowns, but that's not really her." That's exactly what Dan Humphrey would say about someone who destroyed his sister's future at Parson's now that he enjoyed the taste of her cherry chapstick. +50 —SANDRAISABELMTL
• +20 for Serena's fantastic eye roll and smirk when Carol complains that Serena and Charlie spent $1,000 on clothes in one day. Her best work of the season. —VDDUBBLOVE
• +25 For Chuck's wardrobe perpetually reflecting his mental state. The sadder he is, the darker his suit. —SCHEMINGWITHSCONES
• +50 for Rufus forgetting he also has a daughter when "gathering the whole family" for the photo shoot. Blair wasn't even there to enforce the banishment! Metro North doesn't take that long. Jenny could've easily come down for the day. —MIMI52000
• +5 for Blair making Charlie sleep on the floor—because the social hierarchy must always be maintained. —JUSTSAYYES
• Blair calls Chuck a "child" while she runs around all episode talking in a baby-voice about finding her prince and pouting at Dorota like a petulant little brat. +10 because rich people can be hypocrites too, not just hippie aunts from Florida. —NURSELUVBASS
• +5 for Raina's math skills. "I just realized that I have one parent, so if I lose one parent, I will end up with… NO PARENTS." Well done. -ALLIEC
• Lily has a thing for pot brownies. Too bad this didn't air on Wednesday. +4.20 —CHUCKISMYHOMEBOY
• How could I have missed it before? 'Dair' is really just Blair's belated 'Yalie' relationship! Dan will discover that he really is gay after all (between the matching flannels and his Bruce Wayne/Dick Grayson relationship with Eric - DUH) and Blair will finally have the Sunday brunch gay friend she's always needed. +25 —THE_DEACON
• +2 for William's waffles—they looked thicker and firmer than Rufus's. Another blow to the househusband's ego. —BRANDIE_LARUE
• Anyone who has a sister and came of age before 1990 can relate siblings forming their own dance squad in hopes of auditioning for Solid Gold/Soul Train/American Bandstand/Star Search. That was not only easily the most realistic thing Lily has ever done,but also one of the most realistic moments of the entire series. +50 —APATHYONMYSIDE
• Cece was one more bicep graze away from mounting that Baldwin. Plus 5. You get yours, Cece. —KDOW3

• +100 for having Grandma CeCe, William, Carol & Charlie in the heralded family photo, but no one even registering the fact that Jenny is not present (or 1/2 bro Scott). Happy times are here again! —CATCHMESOMEBASS
• Carol doesn't understand Lily and Rufus's definition of "watching children closely," the poor dear. Plus 2 and the prediction that by season's end, Charlie will be in the Ostroff Center or in Hudson. —PURPLEANDGREEN
Faker Than Lily Completely Ignoring the Signs of Charlie's Inevitable Downward Spiral and Agreeing to Put a Roof Over Her Head, No Questions Asked
• Minus 20 for Schwartz and Savage—Jews who should have known better than airing this on Passover. —POLISHPIEROGI
• -5 for Chuck driving out to Brooklyn to find out if Dan knows who Blair kissed because they worked together for ONE day. Chuck should have known to go straight to Dorota. —MALPAL
• I'm really tired of them walking around talking about "our world"—who talks like that? "One of us" or "Our kind of people" would be somewhat convincing, but the "Our world" talk is like something out of the mists of Avalon. —LEAH3T
• Didn't anyone else notice the hideous computerized backdrops superimposed in each of the family portraits? What is this, a Photoshop class offering free portraits? -10, because Lifetouch gives public school portraits a better background than that. —ANGELACHASE
• Raina has hooked up with the two hottest guys on this show and, unfortunately appears to only have chemistry with the actor who plays her father. Come on! —GOSSIPMOM
• Minus 10 for the paparazzi, who must be daytimers from Night of the Living Dead, clawing at the windows. Given all of the inappropriately public family confrontations occurring in the lobby and the teeming camera hordes three-deep every time, apparently both Serena and Charlie can elude the paparazzi to eat and shop, as can Lily herself later. (But then perhaps Lily and Carol broke out their "dance" in American Apparel, and everyone left them alone in disgust.) —CLASSOF2008
• Where is Vanya?? We all know he is the go-to guy for dealing with the paparazzi. Minus 10. —STILETTO33
• Raina has a serious conversation with Nate in a dress three sizes too small with most of her chest showing and we're supposed to believe Nate could pay attention to anything she said? Nate is distracted by far less than that. Like bright lights or butterflies. - 20 —FEED_THE_DUCKS
• Chuck is now making disparaging remarks about kissing people from Brooklyn? Minus 10 for him forgetting about his own dalliances with Vanessa, Jenny, and most likely, Rufus. —UESIDERZ
• Would Raina really be comfortable walking around Chuck's place in a short silk robe considering just a week or so before they had been sleeping together? Minus 5 because in real life, she would have rather had sex with Nate in the middle of Central Park's Sheep Meadow than across the hall from her ex. - 10 —JNP1013
• Seriously, when will anyone on the Upper East Side learn to check behind the nearest corner before having an intimate conversation in a public location? No points, just morbidly curious. —STRAWBERRY456
• Who else thought that when William van der Woodsen was talking about getting the "ladies back in the picture" that he was referring to Serena's cleavage rhomboid and not the Rhodes women? —CEE5283
• Seriously, someone needs to remind Dan that family gatherings are NOT places to meet chicks. -4 —NIKOLE0602