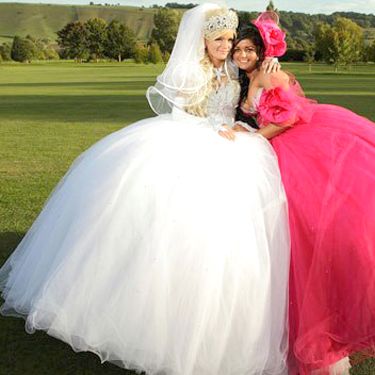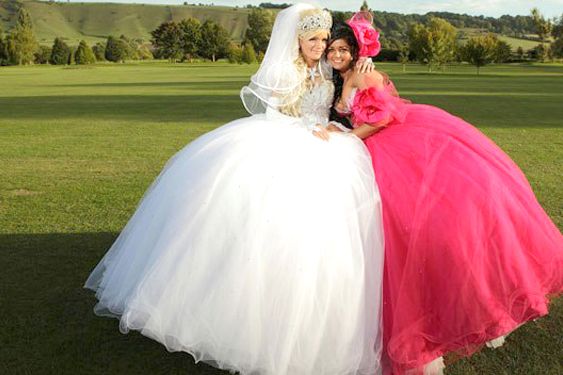 A show about catching catfish with one's hands. Three additional spin-offs to Say Yes to the Dress. Yet another show about dancing. Yep, it's the start of upfronts, and today's announcements from Discovery, TLC, OWN, and Animal Planet brought some truly wondrous, possibly offensive, and even baffling new additions to the TV landscape.
Potential disaster
Big Fat Gypsy Weddings UK, the wildly popular British docuseries about lavish Gypsy and Traveller weddings, will not only air on TLC, but also comes with an American spin-off, Gypsyville (TLC). Weddings was met with some consternation from the Gypsy and Traveller communities, and reality shows aren't know for their dignified, even-handed ways of presenting other cultures.
They're making a whole show out of this?
Hillbilly Handfishin' (Animal Planet) is about the sport of "noodling," which involves catching catfish with one's bare hands. On Hillbilly, "adventure-thirsty city slickers head to Oklahoma to submerge themselves in murky waters" and noodle.
Tanked (Animal Planet) follows "the antics of two brothers-in-law as they run the largest aquarium manufacturing company in the nation." The largest aquarium manufacturing company!
My Extreme Animal Phobia (Animal Planet) helps ("helps") people "debilitated by an irrational fear of animals." Must we turn every possible malady into a sideshow?
Déjà vu
Detroit Animal Tattoo (Animal Planet) is somehow not about tattooing animals but is instead about a Motor City parlor that specializes in "photo-realistic wildlife tattoos." NY Ink (TLC) follows Miami Ink in star Ami James as he opens his new store. Yes, L.A. Ink is still on the air.
Say Yes to the Dress: Bridesmaids, Randy to the Rescue, Say Yes to the Dress: Randy Knows Best, and Niecy Nash's Wedding Bash (TLC) join the staggering number of wedding shows already on TLC, not to mention the slew of bridal shows on cable in general.
Louie Spence Dance Project (OWN) brings us another story of a high-energy choreographer embarking on a new project, not unlike The Dance Scene.
Actually, that sounds like a pretty good show
Life on a Wire (Discovery) profiles Nik Wallenda, a tightrope walker from the famous Flying Wallenda circus family. Circus-oriented shows have historically been solid: PBS's recent Circus was riveting, Cirque Du Soleil: Fire Within was great, and even Disney's Totally Circus was terrific in its way.
Off the Rez (TLC) follows basketball phenom Shoni Schimmel and her coach/mom as they leave the Confederated Tribes of the Umatilla Indian Reservation in Oregon to pursue Shoni's dreams of earning a college scholarship.
There are so, so many more where these came from …