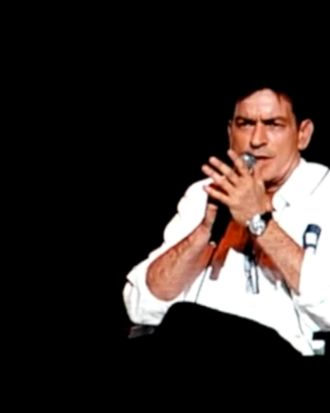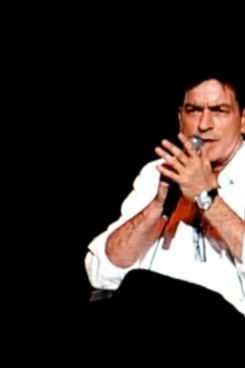 In the lobby of Radio City Music Hall Friday night, perched on an easel, was a sign. It said "No Heckling. Hecklers will be removed from the show. Thank you for your cooperation." The crowd in the bustling hall — 99 percent white, 60 percent bros, 40 percent their dates, all drinking — read the sign, pointed at the sign, laughed at the sign, posed for pictures with the sign, and then, promptly, ignored the sign. After all, they were there to see Charlie Sheen.
This is what the Charlie Sheen's Torpedo of Truth tour was like last night: An episode of Inside the Actors Studio in which the James Lipton stand-in has barely prepared questions and the audience is hoping for a WWF show. At 8:34 p.m., an unidentified moderator introduced Charlie Sheen by asking, "Who wants to hear the truth?" and then making a domestic-violence joke: "If someone beside you gets out of line, give them a smack — especially if they're your spouse." The almost entirely full theater got to its feet to give Sheen, wearing a Yankee cap and shirt, a standing ovation. Sheen and the unidentified moderator then sat in armchairs around an end table loaded with bottles of bright-pink liquid and an ash tray, and staged an "interview." The moderator started by asking Charlie how he felt to be in New York City. "It feels fucking great," he said. "And surprise, I'm not staying at the fucking Plaza Hotel." The crowd laughed. Four minutes later, at 8:38, down in front, as Sheen was starting to tell the first of many meandering stories about hotel life, came the first boo.
For the next hour, Sheen faced off against an ever-growing number of hecklers. For the first 40 minutes, he kept them largely at bay by telling stories with enough scandal to sate — what really happened at the Plaza hotel ("Never even fucked her"), about the time he and Nic Cage almost got arrested for carrying drugs on an airplane, his position on acting: "Fuck exploring the arts and finding my craft. Thousands of chicks, lots of cash! I'll buy an Oscar." (A strange but true fact: When Charlie Sheen tells a story, he works up a Raymond Chandler–esque, noir rhythm: "I had a dream I invented Scotch. And that I performed CPR on a supermodel in a heroin coma. I wasn't the one in a heroin coma.") But for the last twenty minutes, as it became clear the "show" was just going to be a relatively tired-seeming Sheen — it was possible to imagine he was actually sober — spewing catchphrases he came up with way back six weeks ago, he lost control of the crowd.
It's not that the boo-ers came expressly to hate on Charlie Sheen — these are the people who gave him a standing ovation when he walked out — it's that they came to be entertained by Charlie Sheen, and he tried to satisfy them with some half-baked stories about the time he screwed a pregnant hooker in Juarez. That's not entertainment. Sheen rocketed himself to a new level of notoriety because, among other things, he seemed to "get it" — our envy-disgust of famous people — and triangulated that into a shtick that was both unapologetically self-aggrandizing (Charlie Sheen is a "bitchin' rock star from mars") and unapologetically dismissive (of Chuck Lorre, CBS, Warner Bros., etc). But he doesn't "get" that if his stage show consists of him being a lazy, boring braggart, he becomes an object of envy-disgust, not a mouthpiece for it. Go hard, or get booed. If Charlie Sheen wasn't in this show, he would have been making fun of it. The crowd took it upon themselves to do that for him.
Sheen doesn't really have anything to talk about but the acting career he is in the midst of irrevocably destroying, and he reached his nadir late in the evening when the subject of Two and a Half Men was raised. The moderator asked the crowd, "How many people want to see Two and a Half Men back?" The crowd cheered. Then Sheen explained, "I didn't quit, I didn't breach contract, they fired me." "Would you go back for next season?" the moderator asked, before telling the crowd, "They're listening to you. You matter," implicitly egging on some sort of letter-writing campaign to CBS. Sheen replied, "Well of course I'd go back. It's a bitchin' job." He then issued an "open invitation" to Chuck Lorre to join him for his Sunday show, "To see if we can't work this thing out." Everyone cheered. As if the point hadn't been made — that Charlie Sheen, sitting onstage in front of a room full of drunk people violently razzing him, could really, really use his $2 million-a-week gig back — the moderator asked again, "You want your job back?" Sheen answered, again, "Of course I want my job back man. You guys want me to have my job back. You've seen the reruns ten times … I want to get my job back, so you can keep enjoying the greatest sitcom ever." At which point, everyone booed. These people may like Two and a Half Men, but this was too much. "You just loved it a minute ago," Sheen said, "now you're not making sense."
When the show ended, almost exactly an hour after it began, the crowd hurried out into the lobby. "I thought it would be so bad I thought it was funny," one man said to his date, "but it wasn't even." "The stories weren't even that good," another complained. "He obviously needs a script," a Two and a Half Men fan observed. Outside Radio City, TV cameras swarmed around asking for people's impressions, as others huddled around to watch. "It was embarrassing," one guy said. Another countered, "It was hilarious." On her way down into the subway, a man asked his friend, "What were people expecting?" She replied, "Something better than this?"