Jerry Saltz on John McCracken, 1934–2011
Photo: Grant Delin, Courtesy David Zwirner/Grant Delin, Courtesy David Zwirner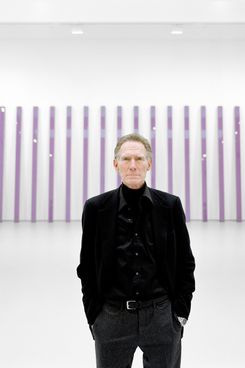 John McCracken died of cancer on Friday, April 8, at the age of 76. A lesser-known major Minimalist sculptor who emerged just a tick after the Donald Judd-Dan Flavin generation, McCracken worked in simple sculptural forms: His Pop-Minimalist surfboardlike leaning planks, boards, and slabs spoke a formal language that was at once immediate, material, starkly abstract, and spacy. These brilliantly colored, highly polished, exquisitely smooth sculptures — all laboriously handmade of polyester resins, metal, fiberglass, wood, and lacquer — have the uncanny ability to appear solid, shimmer into nonexistence, look like light, oscillate, wobble, and seem to levitate in an in-between dimension. He used color as an abstract solid essence; he often referred to his work as "mobile color chips." For me, his bright yellows, blues, and reds have some of the lustrous richness of the light in Rembrandt or Barnett Newman, two of his heroes. They exist as solid Flavin fluorescent sculptures.
His remarkable exhibition at David Zwirner in 2006 consisted of tall, black, shiny columns that had the presence of sentinels or guideposts and seemed to mark some kind of landing strip for extraterrestrials or UFOs, both of which he spoke of often. These almost-perfect freestanding keepers-of-metaphysical-secrets and celestial-navigation devices made Chelsea slip away and other worlds seem possible, even probable, as I entered a blessed-out dimension where these obdurate things, with the bearing of basalt Egyptian columns, became abstract angels in the architecture. I thought of Wallace Stevens's writing about "a geography that would be intolerable except for the non-geography that also exists." A physical fullness filled the almost empty room.
McCracken kept what he called a diary of "Remote Viewing & Psychic Traveling," in which he recorded contacting "aliens," "high-minded beings," "the ghost of my grandfather," and of being "in a spaceship with a female copilot…approaching earth," seeing "huge, spider-like creatures." He concluded that these creatures were "expressions of fear coming from the human race." All this, he wrote, had "the feeling of home, a good feeling." It's no wonder that many thought that the monolith featured in Stanley Kubrick's 1968 film 2001: A Space Odyssey was a McCracken sculpture.

Fans of McCracken's work accepted that he had changed very little since the sixties. He described his art as "blocks, slabs, planks. Basic beautiful forms," and called them "things that simply exist, that have pure, primary existence." McCracken lived in Los Angeles but claimed to communicate "through abstract means" with his New York counterparts like Judd, Flavin, and Carl André — whom he did eventually meet.
For me, his work always has a well-crafted surreal, mystical-physical lucidity. What he called leaning "slabs" and "blocks" — formal objects that connect wall and floor with viewer's scale and gravity — I think of as marvelous bridges that take us from one space to another, magic carpets that collapse gaps between worlds. McCracken talked a lot about "inner experience" and "the unconscious." He was a great space cowboy.
To see some of his most notable work, click through the slideshow below.