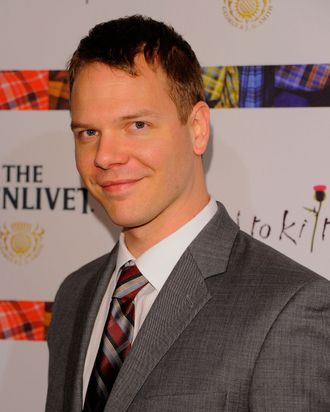 Photo: Andrew H. Walker/Getty Images/2011 Getty Images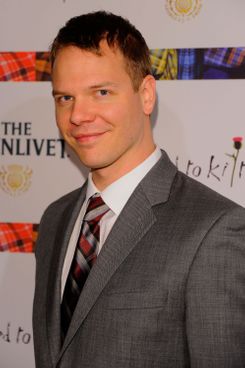 True Blood's fourth season is in the midst of shooting, but Jim Parrack couldn't tell us much when we ran into him at the Dressed to Kilt fashion show last night. "Alan [Ball] just debriefed us last week and said, 'Be very, very careful,' so there's not much that I can say about what actually happens," Parrack explained, but he happily teased, "This is the most shocking season yet. The things that happen with the relationships between people and creatures are so unpredictable and severe, it's wild." Parrack did report that, as Chris Bauer promised, Detective Andy Bellefleur will be super-buff in the new season, which begins June 26, just in case he's called on to do nude scenes. "Chris came into a table reading a couple weeks ago and he had on his cop uniform, and I stood up and I said, 'I would actually do what this cop says to do,' because Chris's muscles were just popping," Parrack said. "I'm not kidding, he got fit. Chris'll whoop all of our asses now." While he wouldn't confirm whether or not Bauer gets naked on-camera, Parrack's character Hoyt Fortenberry does not have any nude scenes so far. "There are certain people with a certain quality of physique, why not get those people naked instead? And so they do," he explained.
Meanwhile, while visiting New York, Parrack has been hanging out with James Franco, who is rehearsing a piece at the Stella Adler studio. "James Franco is one of my best friends, he's here, I got to see him last night, and I'm going to see him tonight," Parrack said before the fashion show. Parrack said the two met back in 2002 or so when both felt like outsiders in Hollywood. "He was kind of bizarre then, and I was too; I felt strange, I felt on the outside a little bit and he didn't seem to think I was, and I didn't seem to think he was, and we just started becoming pals." And, he says, Franco even helped him straighten out his life! "He was just so honest. You know, I was a young guy, 21 or 22 years old, that was very troubled, and he didn't mind saying to me, 'You've got to get it together.' And he wasn't that much older."
Parrack says Franco's manic working habits are not for show. "I guess some people say, 'Oh, he just wants to kind of be all over the place,' but I think that's bullshit. Nobody would put out that much effort — especially when you have such little concern for what anybody thinks of you, you wouldn't then start a life to impress the people you don't care about. He just is really interested in life. He has a lot of curiosity, he values his life and he's in touch with his own life and he's interested by life. And that's attractive and that's part of what our friendship has been about." In fact, Parrack will play a role in Franco's upcoming Sal Mineo biopic, which he expects will begin shooting in May or June. Franco will direct, but is still deciding whether he will also act in the project.