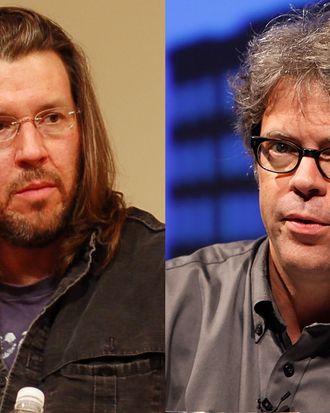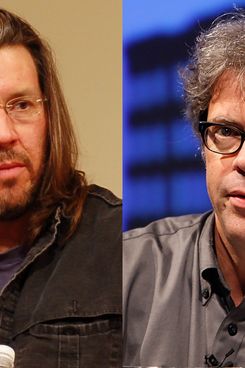 The reviews keep coming in for The Pale King, but in this week's New Yorker, Jonathan Franzen has a rich, raw, complicated remembrance of his friend David Foster Wallace. It's an essay framed by Franzen's trip to a remote island in the South Pacific, to go bird-watching, reread Daniel Defoe's Robinson Crusoe, and find the solitude necessary to keep his promise to himself that, "After I'd finished my book project, I would allow myself to feel more than fleeting grief and enduring anger at David's death."
The piece is loaded with insights about Franzen, about the novel, about what it means to be lonely and bored right now, and, also, about Foster Wallace, a complicated guy Franzen knew so well he once signed one of his books to Franzen by tracing "the outline of an erection so huge that it ran off the page, annotated with a little arrow and the remark 'scale 100%.'" Franzen is probably the only writer with enough stature and familiarity with Foster Wallace to get to put anything this specific and complicated about Foster Wallace on the page, like his pained observation that Foster Wallace's suicide was a way for him to give himself to his readers and not his loved ones.
"He was sick, yes, and in a sense the story of my friendship with him is simply that I loved a person who was mentally ill. The depressed person then killed himself, in a way calculated to inflict maximum pain on those he loved most, and we who loved him were left feeling angry and betrayed. Betrayed not merely by the failure of our investment of love but by the way in which his suicide took the person away from us and made him into a very public legend … If you happened to know that his actual character was more complex and dubious than he was getting credit for, and if you also knew that he was more loveable — funnier, sillier, needier, more poignantly at war with his demons, more lost, more childishly transparent in his lies and inconsistencies — than the benignant and morally clairvoyant artist/saint that had been made of him, it was still hard not to feel wounded by the part of him that had chose the adulation of strangers over the love of the people closest to him."
Now go read the rest of it.
Farther Away [NYer]