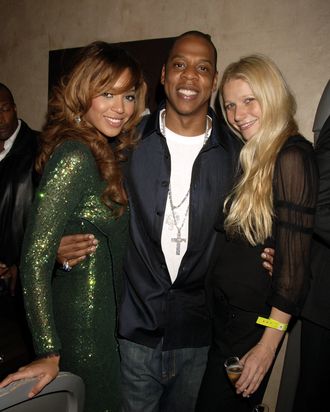 Photo: Dave M. Benett/Getty Images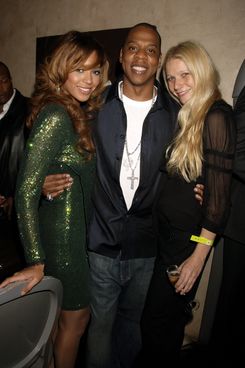 LifeandTimes.com, Jay-Z's lifestyle site, launched last week without much exposition. As always, leave it to Gwyneth Paltrow to get to the bottom of things. In a special-edition update on her own, very divisive lifestyle site, Goop, Paltrow got the coveted Jay sit-down — and then he interviewed her on his site. It's all very cutesy and obsequious and it's making us sad.
Gwyneth does get Jay-Z to try to explain why he has a lifestyle website, which is sort of helpful: "I started working on it in its various incarnations over a year ago. I've thought about it forever. You know how it works, seeing other sites and being either inspired or saying, 'That's shit. I would do it like … '" But then there are immediately exchanges like this:
Q : As someone who has walked through museums with you, eaten with you, heard music with you, I know firsthand how creativity in all areas lifts your consciousness. Do you feel that as a cultural figure of importance it is part of your responsibility to share what inspires you?
A: I think it's every human's job to inspire others, to feed one another's senses. Inspiration begets inspiration times infinity. Imagine if the person that was inspired to create the phonograph didn't share it with the world.
And questions like this:
Q: You are the coolest man on Earth, how the f did you get like that?
Over at LifeandTimes.com, Jay intros Gwyneth as "Oscar-winning actress and my sister" and then says things like, "The public at large is discovering your ability to sing" and "Personally I was very surprised at your extensive knowledge of hip-hop songs." (Also: "GP: Would I ever make a solo album? Should I? Never say never.")
Okay: So why do we have to be so mean-spirited about two friends jokingly interviewing each other for their vanity projects? First: The behavior exhibited here — smug, self-congratulatory — is exactly the obnoxious way us plebeians assume celebrities act when they're around each other, and it'd be nice if they tried harder to cover it up. Second: There is a whole generation of hip-hop fans who, when listening to and attempting to garner maximum enjoyment out of the man's back catalogue, find it effective to pretend Jay-Z is not really good friends with Gwyneth Paltrow. And when she interviews him on Goop, that does not help.
Life + Times [Goop]
Straight Outta Compton? [Life + Times]