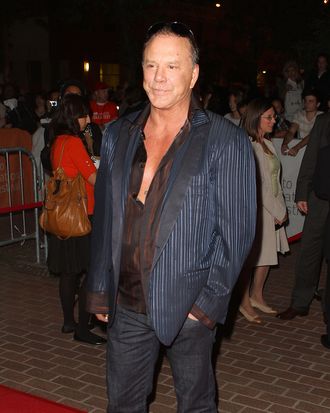 Photo: Joe Scarnici/Getty Images/2010 Getty Images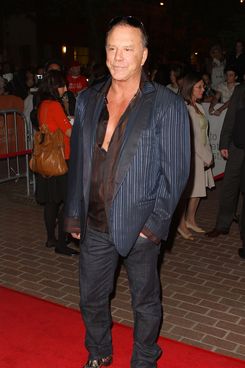 When we spotted Mickey Rourke leaning against a wall at the after-party for a screening of Scream 4 at the Mondrian Soho's Mister H last night, we made a beeline for the man. Was he there because he loves horror movies? Or to support the night's celebrity headliner, 50 Cent, who he co-starred with in the unreleased 13? Nope, he wasn't there to do either. Rourke isn't a big fan of horror, and he's even less of a fan of 13, which he described as a "terrible" movie. Also "terrible" according to Rourke: Passion Play, his movie with Megan Fox, an actress he previously described as "the most talented" he'd ever worked with. Once you get Rourke talking candidly, he can't be stopped. Enjoy the brutal honesty.
Let's start with horror movies: You a fan?
Depends.
On what?
If there's nothing else to watch. I came here to see Harvey. I don't know nothing about the movie.
What about 50 Cent? He's hosting.
I haven't seen him.
You guys are in a movie together, right?
A really bad movie, yeah.
What?! Is it out?
No, it's so bad it can't get out.
Tell me why you made it.
For the money.
But you think the movie's bad.
Terrible.
Why?
You have to watch it.
What about your movie with Megan Fox and Bill Murray?
Terrible. Another terrible movie. But, you know, in your career and all the movies you make, you're going to make dozens of terrible ones.
You called Megan Fox, like, one of the best actresses of all time.
That I worked with [smirk].
That movie's getting limited release.
That's because it's not very good.
I know a good movie we can talk about: your rugby movie.
That'll be a great movie. We start shooting February.